In my last post, I told you about moving… Well, it's done! Santiago in Love and I have moved OUT, and moved IN! We are now settled. Have you decided where, thanks to the clue I left you? (I've put it back here)
The answser, right now 😉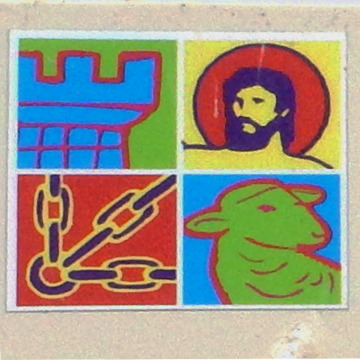 Smoothly settled down…
… in Saint Jean Pied de Port!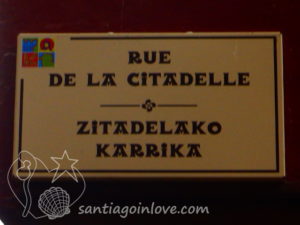 Yep, our bags are finally set down at this important place of the Camino. The logo is a modern version of Donibane Garazi's  coat of arms (name of the village in Basque language). Castle, Lower-Navarre's chains, Saint John and his lamb. If you look well enough, you can see these symbols everywhere in the village.
For now, everything is very quiet: very few tourists and pilgrims, many closed shops. Off season, the village takes a rest. I live in the historical/touristic center of Saint Jean Pied de Port, but there's a lot of room to walk and a lot of tranquility!
I also arrived "into some smooth" too. Most of the time, I think the temperature's too warm for the season! It's still cold and there is some snow at high altitude, but it was about 75°F 2 days ago! For me ho grew up in the North-East of France, living in the South-East is a big difference…
Of course, it will take some time to get around. But thanks to the Camino, I have the feeling I'm on known territory! I came for the first time in 2010…
At the heart of the Camino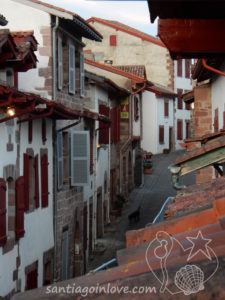 Without even going outside, Santiago is here. I can see the pilgrim's office and Camino signs from my window, I literally see scallops on every street corner. I already lived in a city that was a stage on a Camino, not very far from the path. However this time, I live right on the Way! After so many kilometers on the Camino, it's a strange and nice feeling at the same time.
Beside the pleasure of living there and being immersed on the Camino, I also found a job. I had an happy trial period last October, I will be a sale-assistant at the Pilgrim's store this year! Hiking gears, books, knick-knacks and souvenirs about the Camino… How closer to the universe of Santiago could it be? Starting at the beginning of March, with the beginning of the pilgrimage's season. I'll keep you posted!
If your path lead you to Saint Jean Pied de Port, give me a heads up and stop by! 😉