In this post, the rest of my adventures on the Le Puy route! This 2nd part tells you all about my Way from Le Villeret d'Apcher to Aubrac… as well as how I kept the Spirit of the Way with me after it was all over!
Looking for the 1st part of this tale, from Le Puy to Le Villeret d'Apcher? This way, please!
Some mini-stages: La Roche, Saint-Alban et Les Estrets    ~    Speeding up to the 4 chemins    ~    Magnificent Aubrac… pure kick to end well    ~    Camino extension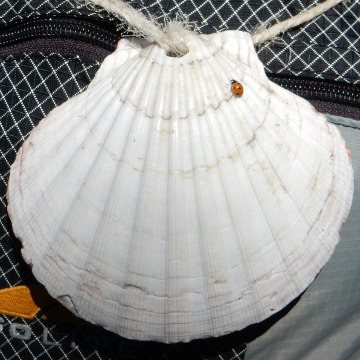 Itinerary: planned and done
This year, I was supposed to walk on the Le Puy route and stop in Figeac. James clearly had something else in mind, because things didn't go as planned. I stopped in Aubrac. I walked the part marked with a plain line and rode (by bus) the part marked with a dotted line.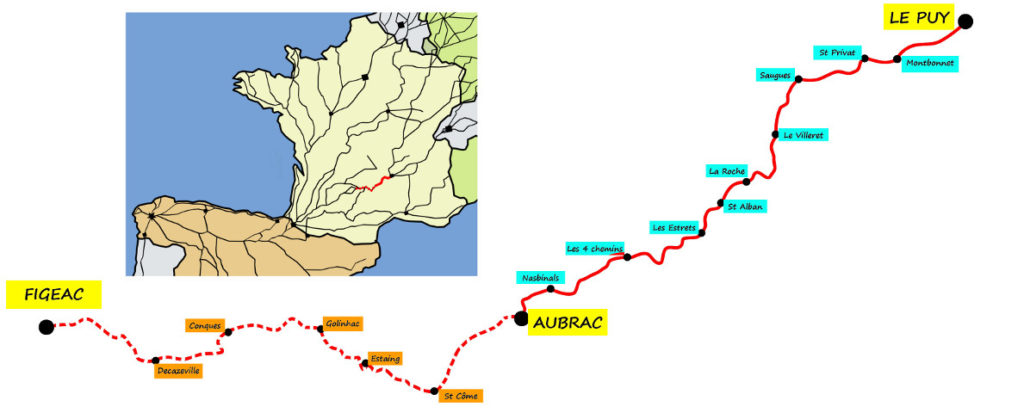 This post is all about the 2nd part of the route I actually walked (red on the following map): I'll tell you about my adventures (and misfortunes!) between Le Villeret and Aubrac. Enjoy and Buen Camino!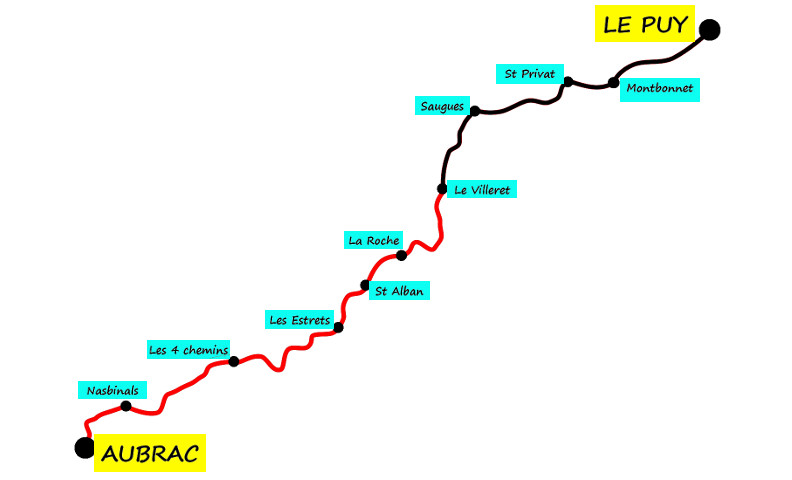 Some mini-stages: La Roche, Saint-Alban et Les Estrets
Sunday, August, 7th: to La Roche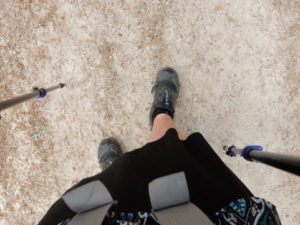 This morning is a slow waking up with my mate, followed by a generous breakfast. It's time for "goodbyes", because I'll be walking alone for the rest of the Way. While my sweet half walks back to Saugues, I repack my bag and carefully wrap my foot. I don't bother to set a goal for the day anymore: I my mind suggests Saint-Alban-sur-Limagnole, my foot reminds me he will decide of the stage when he'll have had it. I'll just walk and see where I'll get to! I eventually stat the day with this state of mind, limping on the Way.
I'm on an unknown stretch today. When I walked this route last time, I took the road to avoid the Domain of the Sauvage. It was a ~3 miles shortcut! But this time, I'm determined to go and see this famous place on the Le Puy route. The path to go there is very nice and for my greatest pleasure, it goes through the forest. The arrival at the domain is not as enjoyable… It's a long country road in full sunlight, that thankfully goes through a beautiful scenic view.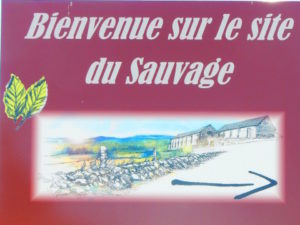 The Sauvage itself is an impressive building! After a quick look around, I plan a well-deserved break and a longer visit. I order some snack and settle outside. I watch pilgrims and tourists coming and going and I enjoy the view… until I realize how late it's become! My order has been forgotten! I decide to leave despite the promise of a quick service. I hit the road again and eat the big piece of bread I've been given as an apology.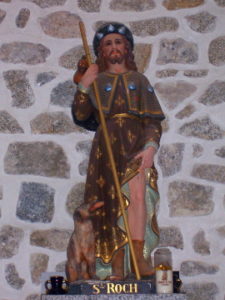 This break is now having an unexpected effect on me… Lounging outside makes me want to take a nap and my foot came to like inactivity. I can't say I'm moving forward a lot! I eventually reach St-Roch's fountain and chapel, where I take 2 good other breaks. I lounge there (again!) an I enjoy the fresh and miraculous water offered by the saint. Quite obviously, I won't walk much more today. I hesitate over camping on the spot, then decide to have a warm night at La Roche, a little less than 2  miles ahead.
It turns out to be a very good decision, as I end up in a very pleasant accommodation. Moreover, the hostess and the company is nice! Once again, I enjoy a big empty room. Un-honored reservations then enable me to have an unexpected dinner. This evening is a perfect example of the Spirit of the Way… Thanks to our hostess and to my fellow companions!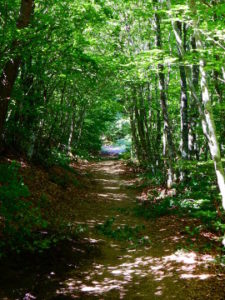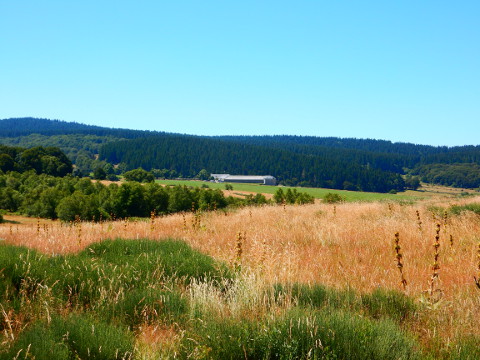 Monday, August 8th: to St Alban
This morning, departure is an extension of yesterday's evening. Some are already gone (for a long time!) when I come downstairs, but some are still there. We have some last exchange before I leave. What a change, I'm not the last one to go! The day is likely to be nice and once again, I'm off with no plan for the stage.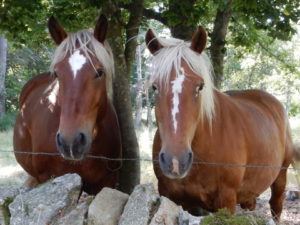 My foot is still really painful… I stroll quietly, enjoying the landscape, breaks and encounters. I witness a spectacular fall, chat with other strollers, get invited for a drink. (THANKS, by the way, you went so fast I didn't have time to say it!) The idea of a stage in St-Alban-sur-Limagnole slowly sinks in, until it becomes a clear resolve.
"Slow but steady" has become an understatement. I'm now slower than a sloth sleeping and I'm very fine with it. I fully enjoy the landscape, have many many breaks and meditate on the virtues of slowness. Others pilgrims pass me faster than ever… I only regret not to meet again anyone I meet. The good side is, I always meet very interesting new people!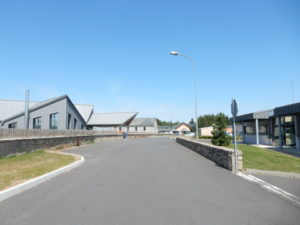 I arrive soon in St Alban and I try another small stretch I avoided last time. I took the main road into the town, but curiosity drives me to follow the Way's signs. It's now certain: I won't do it again! This way is quite unpleasant: longer, on the road and without shade. The only interest (historical) is the hospital and the castle, that can be visited later, once cleaned up and rested!
I end up in a very nice guest pilgrim house, managed by a very nice hostess. Bernadette wins my award of the best accommodation of my Way 2016! I begin by some scrubbing before I get some rest and enjoy this peaceful and warm place. And for once, I'm the first one to sign in! I chat with Bernadette, then I'm off to find an open store (which is hard in France on a Monday, especially in the countryside!). Once I'm done, I visit the church and enjoy a private and touching singing session there (thanks to you, unknown signer!). I finally have a coffee and watch the life that goes on in the street.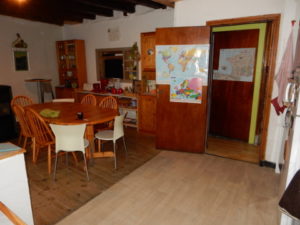 When I'm back at the accommodation, it's been filled up while I was gone. Dinner is another perfect example of an evening touched by the Spirit of the Way. Talks are joyful and interesting and like often, I end up making translations. I'm used to English and Spanish, but I swear that never since my first German lessons (in kindergarten!) did I practice German so much! Rita and Joseph, THANKS for your patience and your praises… even if my ears still find them hard to believe!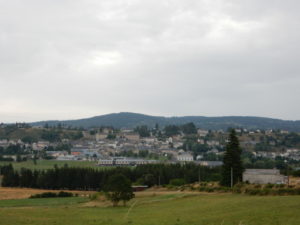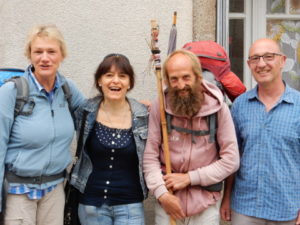 Tuesday, August 9th: to Les Estrets
The day starts just like the day before: we meet and extend the good time we had yesterday. As I decided to do a very short stage, I take my time and enjoy the last moments with my companions-of-an-evening. We all cheerfully wish each other farewell before we all part on our own Ways
My foot is still mad, so I keep going slowly. I'm on anther "stroll-day" on the Way! To my opinion, today's stage (and until the 4 Chemins) is a transition between the regions of Margeride and Aubrac. Beautiful landscape, brief encounters, invite to a pic-nic (thanks!) and lazy breaks make my day. A rainy forecast is the only thing that pushes me to walk a little bit faster at the end of the stage. (And I mean, like a sloth rushing to its nest for a nap 😉 ) After a last and unpleasant technical slope going down, I eventually reach my accomodation in Les Estrets. Once again, I'm the first to arrive: I'm really not used to iand it feels weird! The rain starts shortly after and won't stop until the next morning… lucky me!
I'm comfortably settled on a couch and I enjoy a quiet afternoon. I witness the arrival of my daily companions, all more or less worn and soaked… Gripping talks take place before, during and after dinner. The conversation slowly switches to top-class topics and last long into the night. Reason and a certain need for sleep eventually send us to bed. Thanks to everyone for this nice evening; special thanks to you, Laurent and An…Onyme (rats! I don't know your name?!!?), for this very deep and outstanding exchange!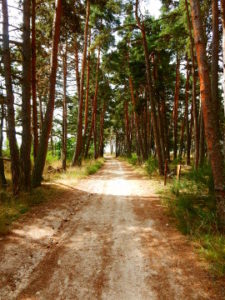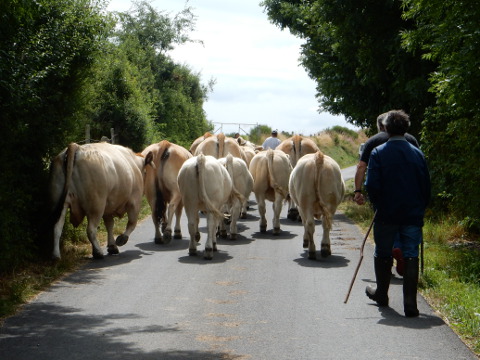 Speeding up to the  4 Chemins
Wednesday, August, 10th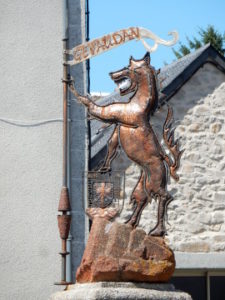 Extended atmosphere again this morning… After goodbyes and an unexpected gift (THANKS, this book is just great!), I'm the last one to leave. My foot seems to have stopped sulking: I finally walk without pain! I still keep going smoothly and checking on my foot's mood. When I reach Aumont-Aubrac, I decide for good that my foot is doing better. I can try a longer day without fearing the aftermath of its bad mood! I have a long break in town: visit, coffee outside and for the first time, reunion with some known pilgrims! It's a pleasure of the Way I happily welcome, as I realize I missed this particular side of the Camino.
I have the feeling I'm flying over the way when I start to walk again. It's not entirely true, of course, but how would a sloth feel if it were going at snail speed? I enjoy the afternoon, have many breaks and visit La-Chaze-de-Peyre's chapel I particularly like. It's becoming late when I finally arrive at the Quatre Chemins, a famous place on the Le Puy route and my stop for the night.
The place is nice, the host welcoming and caring. Rare fact, he lets free use of the washing-machine. Let me tell you, there is a lot of fuss around the thing and no room left on the washing line! Most of the pilgrim already know each other, but we all share a nice evening. I'm however surprised to ens up alone in the common room at 9pm. Everyone's gone to bed! When I decide to go to sleep too, I try to keep as silent as possible… which fails when I discover my bed is covered by my neighbor's stuff.  Thankfully, no one is sleeping (at least I think so) and they nicely clear the bed.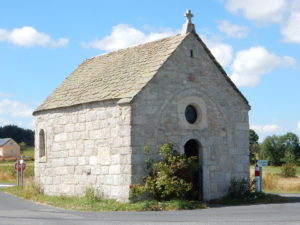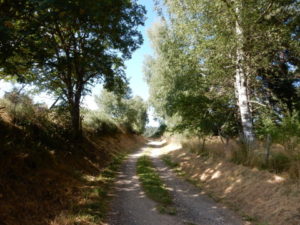 Magnificent Aubrac… A pure kick to end well!
Thursday, August 11th: to Nasbinals
When we wake, some excuses are made. Obviously, I also made it hard for my neighbors to fall asleep… A big first for me, and I'm sincerely sorry! After a slow packing, it's finally time to go.
If the Quatre Chemins are so famous, it's because it marks the entrance into the region of Aubrac. It means new and magnificent landscape to come during the day! Even better piece of news, my foot is still willing to bear me without pain. Today's walk promise to be very pleasant!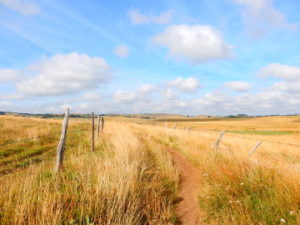 The Aubrac opens before me and spreads as far as the eye can see. Landscape of rocks and fields, bright light, thousands of colors and endless wind… This nature remains wild despite the efforts made by man to smooth it. The plateau is an enchanting place that doesn't hide its rudeness nor its treasures. I deeply enjoy the most impressive spots, despite a surprisingly big flow of pilgrims. I'm still shocked by the rudeness of most people, who seem to have lost their ability to smile or even to say a basic "hello". I get over this pitiful fact and I walk with a contemplative state of mind. I have frequent breaks in-between which I stuff myself with wild raspberries. The day passes by with a surprising speed and bring me innocently to my stage for the day, Nasbinals.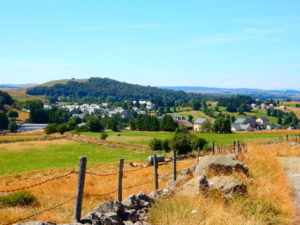 Maybe is it because of the contrast between wild nature and touristic village, but I don't really appreciate the place. On the contrary, the accommodation and its manager are lovely!.I visit a bit and do my groceries before I lose patience with the tourists. I go back to the accommodation and have a very nice evening with hikers and pilgrims. Some very interesting meeting and the surprise to meet Laurent again! Once more, a top-level topic conversation leads us to go to sleep at a quite un-pilgrim-like time!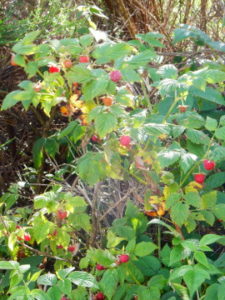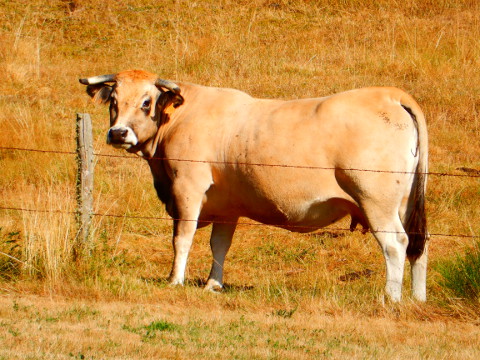 Friday, August 12th: to Aubrac
I decide to walk a mini-stage to end my Way, despite my Olympic shape. Plus, I know what is coming and I absolutely want to have time to enjoy it! I slowly hit the road, to  take the Way in more than to spare my foot.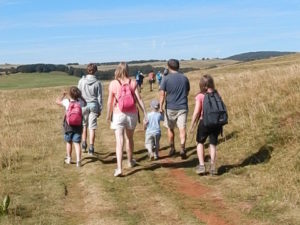 During my last walk, I managed to do this stretch entirely alone… I still can't understand how, but I had the whole Aubrac plateau for myself! It surely didn't happen this time, but rather the contrary. The low of pilgrim is very important again, even if it dosen't take anything from the beauty of the stage. We're walking across vast fields, through herds of  the elegant breed of Aubrac cattle. A very pleasant stroll to end my Way with grace!
Aubrac (this time, the village) is a very touristic place… I make my way through pilgrims, hikers and tourists to reach the accommodation. Again, I'm the first one to show up. I have the honor to unlock the historical monument that hosts us for the night! The English's Tower is indeed the public accommodation of the village, a pretty unusual place to sleep. I take my time to settle before I go out again to become a tourist myself. As a extreme luxury (as I see it), I decide to celebrate the end of my Way at the local restaurant.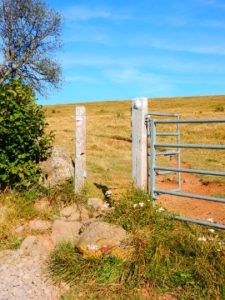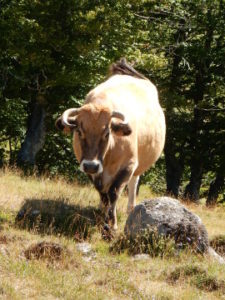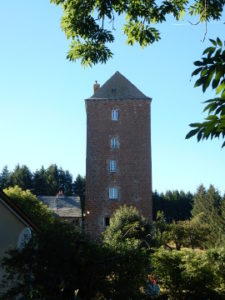 Camino extention
From Saturday, August 13th and on…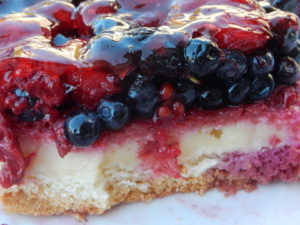 This day starts with a pilgrim-like sleep in: waking at about 7am and slow packing. The air smells like the end of the Way… The bag-transporter that will drive me to Figeac set our rendez-vous at 10am. It's a bit short, but I have enough time to eat a slice of tart from Germaine's place and to get her famous stamp! An gigantic and delicious breakfast that will easily keep me full until the next meal!
Getting in the transport and doing the journey quickly becomes an adventure in itself. Uncertainty about the reservation, race from one accommodation to the next, surprises with the bags and other saucy stories… It's actually a true insight into one of the hidden reality of the Way! The drivers are very nice; the vehicles are a little scary. The first one has squeaking breaks, the second one gets a flat tire. I reach Figeac with a deeper understanding on the bag transportation service. And some admiration and gratefulness for the workers who take care of our stuff in the shadow.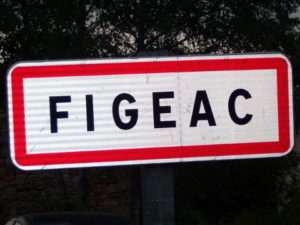 I'm finally in Figeac, a stage of the Le Puy route I remember clearly. No sweat to get there this time, no accommodation to run after. I meet Pierre, a old pilgrim friend, to have some vacations at his place. We walk a bit in the city and I recognize some significant places. We then drive to Limogne-en-Quercy, another village on the route of Le Puy that is also near my Pierre's place. One advantage to visit a pilgrim is to be able to talk about the Way with someone who will not get tired of it. Our talks are also levels and topics that allow me to step out of the Way gently. My Camino softly stops here, until I come back next time!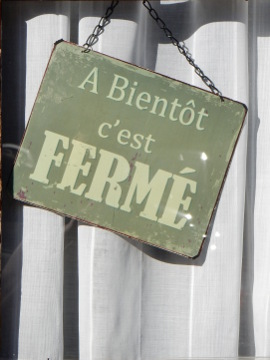 Here is the tale of my many adventures on the Le Puy route, between Le Puy and Aubrac (and Figeac!), in August of the year 2016!
And you? Were you on the Way this summer? What were the places, events or thoughts that stood out?