As pilgrims, we're bound to talk a lot about him. He is the star of the Camino! Jacques, Santiago, James, Jakobus and other Giacomo, his name is translated in the many languages that can be heard on the Caminos…
But have you ever stop to wonder about who is saint James, the one we call "de Compostela"? As a pilgrim who walks on his path… can you answer this question? Do you truly know who was the man who gave his name to the Camino?
Well, let's find out the necessary answers to this fundamental question, here and now!
A biography in the best-seller of all time
An ordinary man with a simple life, until Jesus' invitation
A passionate man with a feisty nature
An apostle among followers, a favorite among apostles
Mysteries and a violent ending
An evolving biography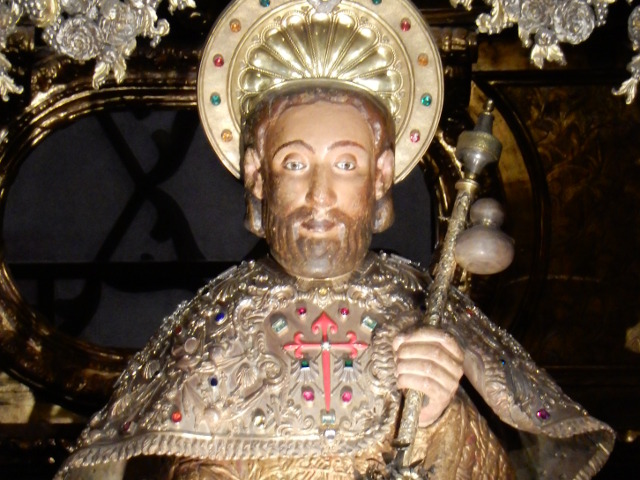 A biography in the best-seller of all time
Saint James' life has already been told in the biggest literary success in history: the Bible. In this book are hidden all of our friend's essential secrets. So then, to know everything about saint James, we have to dig into the Bible!
"Eeewwwwww", may some say, which is understandable… Not only is it quite hard to read, but the Holy Bible isn't necessarily everyone's favorite book…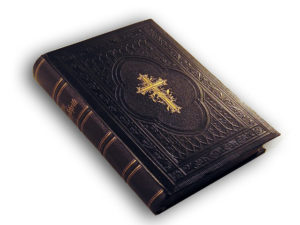 All of the biblical references to saint James can be found in the New Testament: he's clearly identified in 5 of the 27 books that compose it, the 4 Gospels and the Acts.
Most references are in the Gospel of Mark, then in the ones of Matthew and Luke. Saint James only appears once in the Gospel of John and once in the Acts. The rest of the New Testament and the Christian tradition eventually give us contextual details about his life and his kin.
Fans of saint James who are not up for reading the Bible or research Christian tradition… this post is perfect for you!
Let's go on now with saint James' biography!
An ordinary man with a simple life, until Jesus' invit

ation

James is born in Palestine, at about the same time than the Christ. Christian tradition locates his family in Bethsaida, on the shore of the the See of Galilee.
His father Zebedee is a fisherman and his mother Mary-Salome is considered to be the step sister of Mary, the mother of Jesus. The Bible doesn't give much more details about James' parents. The family is completed by James' younger brother, John.
Zebedee hires several men and has a partnership with another fisherman family: the one of Simon Peter and Andrew. James and those close to him had quiet lives, until Jesus gave them quite a twist …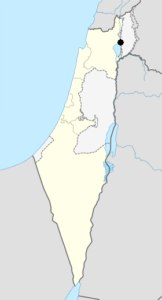 A day like any other when the men are busy fishing, Jesus comes to meet Simon Peter, Andrew, James and John and makes them an offer. He invites them to leave their lives as fishermen behind to become his followers and help spread his word around. The 4 men agree and drop their nets and boats: James becomes one of the first apostles of Christ.
The Gospels of Matthew, Mark and Luke are slightly different. The 2 first are brief to describe the fishermen's recruitment, while Luke gives us more details about it and puts the event after a lecture from Jesus and the episode of the Miraculous Draught of fish.
Whatever the version, many men and women will later join the 4 men to follow the teachings of Jesus. Some of them will commit themselves to him and help spread his word. This is true for James' mother, who will become a member of a small circle of women close to Jesus (according to the interpretation of various sections of the Gospels by the Christian tradition).
Matthew 4,18-22 (almost identical version in Mark 1,16-20 and more detailed version in Luke 5,1-11)
And Jesus, walking by the sea of Galilee, saw two brethren, Simon called Peter, and Andrew his brother, casting a net into the sea: for they were fishers. And he saith unto them, Follow me, and I will make you fishers of men. And they straightway left their nets, and followed him. And going on from thence, he saw other two brethren, James the son of Zebedee, and John his brother, in a ship with Zebedee their father, mending their nets; and he called them. And they immediately left the ship and their father, and followed him.
A passionate man with a feisty nature
James follows Jesus and is quite passionate about his master and his teaching.
He is an energetic man, completely devoted to the Christ and seemingly able of violence to serve him better. Obviously shared with his brother John, this personality trait is such as it is depicted several times in the Gospels. First by an apt nickname given by Jesus, second with an anecdote that tells of their excessive zeal. On this latter occasion, James and John offer to destroy a whole city to avenge the Christ after an offense.
The 2 brothers also have some nerve, as they ask Jesus to grant them personal wishes. Without shame or restraint, they demand the privilege of seats by his side in the eternal life. The other apostles are outraged by their behavior, as clearly reported in the Gospels right after the brothers' share their cheeky wish.
If he doesn't seem to be irritated by James and John's feisty nature, Jesus doesn't hesitate to put them back in their places.
He calls them "sons of thunder", reprimands them for their outbreak of violence and refuses to give a favorable answer to their offers and demands.
James and John's attitude and excesses are an occasion for Jesus to deliver a teaching that is directly directed to the brothers and intended to help them become better men, but also addressed to the other apostles and, to a larger extend, to all who read the Bible.
A strong character, Marc 3,17
James the son of Zebedee, and John the brother of James; and he surnamed them Boanerges, which is, The sons of thunder

An excessive passion, Luke 9,51-56
[…] He [Jesus] stedfastly set his face to go to Jerusalem, and sent messengers before his face: and they went, and entered into a village of the Samaritans, to make ready for him. And they did not receive him, because his face was as though he would go to Jerusalem. And when his disciples James and John saw this, they said, Lord, wilt thou that we command fire to come down from heaven, and consume them, even as Elias did? But he turned, and rebuked them, and said, Ye know not what manner of spirit ye are of. For the Son of man is not come to destroy men's lives, but to save them. And they went to another village.

A cheeky demand Mark 10,35-45 (similar version in Matthew 20,20-28 in which the bothers' mother asks for the favor)
And James and John, the sons of Zebedee, come unto him, saying, Master, we would that thou shouldest do for us whatsoever we shall desire. And he said unto them, What would ye that I should do for you? They said unto him, Grant unto us that we may sit, one on thy right hand, and the other on thy left hand, in thy glory. But Jesus said unto them, […] to sit on my right hand and on my left hand is not mine to give; but it shall be given to them for whom it is prepared. And when the ten heard it, they began to be much displeased with James and John. But Jesus called them to him, and saith unto them, […] whosoever will be great among you, shall be your minister: and whosoever of you will be the chiefest, shall be servant of all. […]
An apostle among followers, a favorite among apostles
James the apostle
So, Jesus gathered many followers around him and large crowds came to listen to his teachings.
As Jesus realizes the magnitude of his task, he eventually appoints a group of men among his followers, forming a privileged circle around him. Jesus chooses 12 apostles, James among them. Simon Peter, Andrew and his brother John also become part of this inner circle. Those 12 men's mission is to help the Christ to spread his word; they receive the gifts of exorcism and healing to do so.

Matthew 9,36-38 and 10,1-5
But when he saw the multitudes, he was moved with compassion on them, because they fainted, and were scattered abroad, as sheep having no shepherd. Then saith he unto his disciples, The harvest truly is plenteous, but the labourers are few; pray ye therefore the Lord of the harvest, that he will send forth labourers into his harvest. And when he had called unto him his twelve disciples, he gave them power against unclean spirits, to cast them out, and to heal all manner of sickness and all manner of disease. Now the names of the twelve apostles are these; The first, Simon, who is called Peter, and Andrew his brother; James the son of Zebedee, and John his brother; Philip, and Bartholomew; Thomas, and Matthew the publican; James the son of Alphæus, and Lebbæus, whose surname was Thaddæus; Simon the Canaanite, and Judas Iscariot, who also betrayed him. These twelve Jesus sent forth.

Luke 6,12-16 (almost identical version in Mark 3,13-17)
And it came to pass in those days, that he went out into a mountain to pray, and continued all night in prayer to God. And when it was day, he called unto him his disciples: and of them he chose twelve, whom also he named apostles; Simon, (whom he also named Peter,) and Andrew his brother, James and John, Philip and Bartholomew, Matthew and Thomas, James the son of Alphæus, and Simon called Zelotes, and Judas the brother of James, and Judas Iscariot, which also was the traitor.
James, witness of Jesus' teachings
As a member of the apostles, James is a witness of Jesus' preachings, teachings and miracles. He's present when the Christ shows himself to the crowds, but also when he speaks to the 12 apostles in private.
At the time of those particular occasions, James is mentioned twice in the Gospels. Once asking a question to Jesus, once as a witness to the Christ's third appearance after his passing.
James is also mentioned in the Acts: he's present when the apostles vote for the replacement of Judas Iscariot after his treason and suicide.
Teaching of the Christ, Mark 13,3-4
And as he [Jesus] sat upon the mount of Olives over against the temple, Peter and James and John and Andrew asked him privately, Tell us, when shall these things be? and what shall be the sign when all these things shall be fulfilled?

Appearance of the Christ, John 21,1-4
After these things Jesus shewed himself again to the disciples at the sea of Tiberias; and on this wise shewed he himself. There were together Simon Peter, and Thomas called Didymus, and Nathanael of Cana in Galilee, and the sons of Zebedee, and two other of his disciples. Simon Peter saith unto them, I go a fishing. They say unto him, We also go with thee. They went forth, and entered into a ship immediately; and that night they caught nothing. But when the morning was now come, Jesus stood on the shore: but the disciples knew not that it was Jesus.

Replacement of Judas, Acts 1,13-26
[…] They went up into an upper room, where abode both Peter, and James, and John, and Andrew, Philip, and Thomas, Bartholomew, and Matthew, James the son of Alphæus, and Simon Zelotes, and Judas the brother of James. […] Peter stood up in the midst of the disciples, and said, […] For he [Judas] was numbered with us, and had obtained part of this ministry. […] his bishoprick let another take. […] And they gave forth their lots; and the lot fell upon Matthias; and he was numbered with the eleven apostles.
James, favorite of the Christ
James was one of the 12 apostles, the inner circle among Jesus' followers. But we can guess by reading the Gospels that he was a bit more than that.
James was a privileged person among privileged people: he was a favorite of the Christ among the apostles, along with Simon-Peter and John. The 3 men are indeed chosen by Jesus to attend important events while the other apostles are not invited.
As part of this "inner inner circle", James witnesses miracles (the healing of Simon-Peter's mother-in-law, the resurrection of the daughter of the ruler of the synagogue Jairus) and key moments of the life and death of Jesus (his transfiguration, his last night of prayer before his arrest)
Healing of the sick, Mark 1,29-31
And forthwith, when they [Jesus and his followers] were come out of the synagogue, they entered into the house of Simon and Andrew, with James and John. But Simon's wife's mother lay sick of a fever, and anon they tell him of her. And he came and took her by the hand, and lifted her up; and immediately the fever left her, and she ministered unto them.

Resurrection of the dead, Luke 8,49-55 (similar version in Mark 5,37)
While he [Jesus] yet spake, there cometh one from the ruler of the synagogue's house, saying to him, Thy daughter is dead; trouble not the Master. But when Jesus heard it, he answered him, saying, Fear not: believe only, and she shall be made whole. And when he came into the house, he suffered no man to go in, save Peter, and James, and John, and the father and the mother of the maiden. And all wept, and bewailed her: but he said, Weep not; she is not dead, but sleepeth. And they laughed him to scorn, knowing that she was dead. And he put them all out, and took her by the hand, and called, saying, Maid, arise. And her spirit came again, and she arose straightway: and he commanded to give her meat.

Transfiguration, Mark 9,2-9 (similar versions in Matthew 17,1-9 and Luke 9,28-36)
[…] Jesus taketh with him Peter, and James, and John, and leadeth them up into an high mountain apart by themselves: and he was transfigured before them. And his raiment became shining, exceeding white as snow; so as no fuller on earth can white them. And there appeared unto them Elias with Moses: and they were talking with Jesus. […] And there was a cloud that overshadowed them: and a voice came out of the cloud, saying, This is my beloved Son: hear him. And suddenly, when they had looked round about, they saw no man any more, save Jesus only with themselves. And as they came down from the mountain, he charged them that they should tell no man what things they had seen, till the Son of man were risen from the dead.

Agony of the Christ, Matthew 26,36-38 (similar version in Mark 14,32-34)

Then cometh Jesus with them unto a place called Gethsemane, and saith unto the disciples, Sit ye here, while I go and pray yonder. And he took with him Peter and the two sons of Zebedee, and began to be sorrowful and very heavy. Then saith he unto them, My soul is exceeding sorrowful, even unto death: tarry ye here, and watch with me.
Mysteries and a violent ending
The Gospels don't say a thing about James' specific actions after the death of Jesus, with the exception mentioned above (his presence at the third appearance of the Christ and at the reunion that picked Judas' replacement among the apostles).
If the apostle's mission was to spread Jesus' teachings and if they divided the lands to evangelize between themselves, there is no mention at all of James's destination in the Bible.
The documents telling of his preachings to Spain were late to appear, and only after a long and slow construction of this Christian tradition over the 4th and 6th centuries.
James is mentioned for the last time in the Acts, with the depiction of his death.
After its separation from Judaism, the birth of Christianity leads to a state of crisis and the first converts are persecuted. As an apostle of Jesus and a leader of the new institution-to-be, James is arrested, imprisoned, condemned and beheaded by order of the Jew king of Judea, Herod the First.
James is the first of the 12 apostles to die (the only one whose death is told in the Bible) and as such, becomes one of the first martyr for Christianity.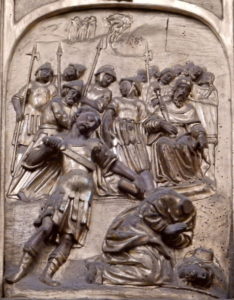 Acts 12,1-3
[…] Herod the king stretched forth his hands to vex certain of the church. And he killed James the brother of John with the sword. And because he saw it pleased the Jews, he proceeded further to take Peter also.
An evolving biography
So, here is the life of our friend saint James, as told in the Bible!
From his journey to Spain to his miracles as the Matamoros, all other facts and attributes we associate him with nowadays are actually the result of the evolution of his character and legend over the course of History, pieced together by Christian traditions, various political and religious needs… and by his believers' (sometimes excessive) enthusiasm.
The evolutions of Saint James' biography over time is indeed truly fascinating… but that's another story!
---
And you?
Did you know saint James that well? Have you already tried to imagine who he was before/while on your Camino? How did you picture him?
Tell us in the comments! 🙂