Here is the first painting I share with you. A pilgrim art made with love and patience, it pays tribute to a major symbol of the Way: the famous yellow arrow!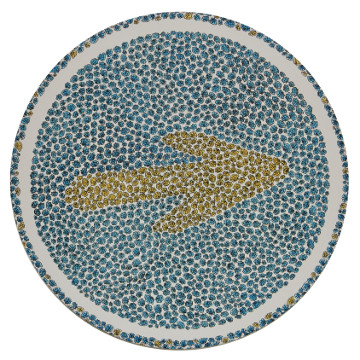 The yellow arrow
It's quite hard for a pilgrim to fake not recognizing it… for it is everywhere! Without it and its millions of copies, we would probably be lost, and roaming through Spain. The yellow arrow is the Spanish marking for the Camino de Compstela. It was born from Father Elina Valiñas Sampedro, vicar of the Galician village of O'Cebreiro. He was a pioneer of the modern culture of Saint James and was very active at the time of the rebirth of the pilgrimage during the second half of the 20th century. Thanks to him, the yellow arrows help pilgrims to reach Santiago safely!
Le tableau
It is a medium-size painting, reaching 19.5 in in diameter. I used blue, black and yellow acrylic markers and paint.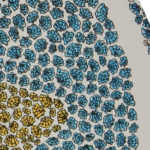 If you like this painting, don't hesitate to contact me!