The Camino also knows seasons. Unsurprisingly, it's more popular on sunny days. The majority of pilgrims prefer to leave between May and September to take advantage of the weather and temperatures that are normally more pleasant. The flow of pilgrims dries up between October and April; it's at its lowest in the depths of winter. But even in low season, it doesn't stop completely.
That's because the Camino can very well be done all year round. The "bad seasons" can be beautiful too! But of course, you can't leave in summer as you do in winter… Zoom in on the differences of a low season Camino… maybe then you'll decide to walk off-season too!
A low season weather
Less pilgrims
Less accommodations
Difficult or forbidden sections
Health for low season pilgrims
Low season trail, proper backpack!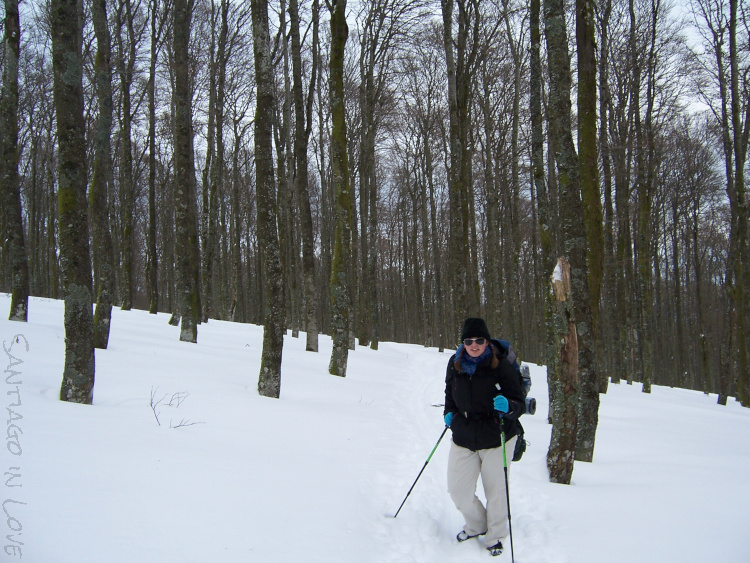 A low season weather
This is probably the first thing that comes to mind… Bad weather in autumn, winter and early spring is generally not what pushes pilgrims out the door! However, each season is still enjoyable outdoors… if not, winter sports would have serious reasons to worry! Provided of course to be prepared and well equipped.
Temperatures
Temperatures are low, sometimes below zero (or below 30, if you're in Fahrenheit 😉 ). They start to drop at the end of summer, with increasingly cool evenings and nights, and end up with freezing days in the middle of winter. Spring is not to be underestimated either, with frosts happening some years as late as June!
That said, cold seasons also offer days with nicer temperatures. In recent years in particular, winters have been very mild … Many pilgrims found themselves walking in T-Shirts in January!
Also note that even if temperatures are cold, walking when it's fresh is much more pleasant than walking during a heat wave!
Humidity et "-falls"
Humidity and rainfalls are more important. (Although again, these past years, pilgrims have been generously rain-soaked all year round…) Some regions are more humid than others. The Basque Country and Galicia are green for a good reason! Doing a low season Camino means accepting to have more chances to get rain.
Humidity includes fog. You can have some all year round, which usually lifts late in the morning at most in summer. Fog in colder seasons can last all day long… or several days! It also often comes with rain… Be careful not to lose your way!
For sections in altitude, "snowfalls" can easily remplace "rainfalls". Mountain stages are obviously good candidates: for example the Pyrenees, the Spanish Cantabrian Mountains or the French Massif Central. But careful, other less "obvious" areas are also prone to snowfalls: in Spain, the mesetas are true freezers, often covered with snow! It's good to know that walking in snow is more tiring and time-consuming than walking on a path without it. Think ahead about it to organize your stages and manage your time. Another important thing. Even a path you know by heart can become unrecognizable once covered with snow… In any case, be very alert!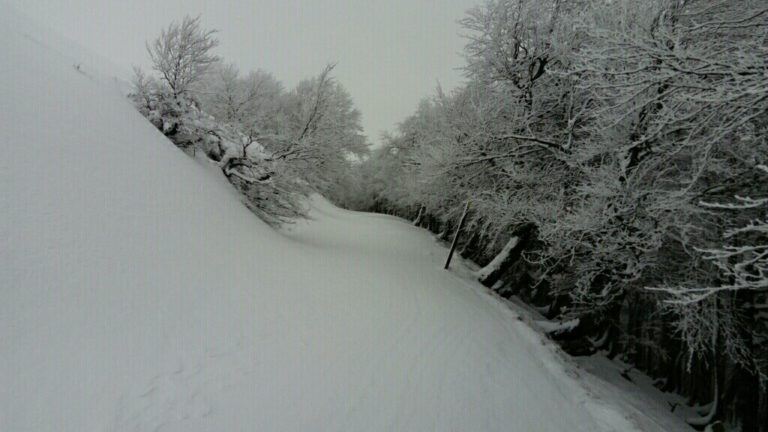 Length of days
Less obvious but just as important. In low seasons, days are shorter! Less day time also means less time to complete your stage without a flashlight. Once again, take it into account to organize your stages and manage your time! Especially if you walk slowly, if you need regular breaks or if you like to take your time to eat… Or all of the above, like me! In the heart of winter, 6 hours of daylight goes very quickly.
Less pilgrims
A minority of pilgrims set out for Santiago in low season. Whatever the reasons, the Caminos are more or less deserted. Path that are already low in pilgrims in summer are completely empty. Those that are more popular see little more than a handful of pilgrims per day. Even the (in)famous last 100km before Santiago are calm and peaceful!
Leaving at these times of the year promises a rather solitary journey. The endless line of summer pilgrims no longer exists, days sometimes pass without meeting a living soul. Long and noisy tables as well as lively evenings are rare. Those who like to meet people would then feel quite alone…
A more solitary pilgrimage, yes. But not completely lonely either! Some paths remain more frequented than others. The Camino Francés is once again the most populated! The Portuguese Camino follows, not so far behind. Note that the Caminos of Galicia hold a good share of the distribution of low season pilgrims. Their last 100 kilometers which I just described as "calm and peaceful", are, as in summer, the most frequented sections.
Beyond the Camino they choose, low season pilgrims will find a special atmosphere. Solidarity and fraternity are very present despite the small amount of people and the solitary days. Pilgrims are welcomed in an even warmer way than in summer and the interactions with the locals find another dimension.
Less accommodations and services
Accommodation and service offers in low season are quite scarce compared to what's available in high season! Seasonal closure exact dates depend on each establishment. The first ones start to close at the beginning of October, but those are actually few in number. The majority stop their activities between mid-October and early November. During this transitional period, it's important to make sure of which establishments are actually open! Those that are still open in November generally remain so all year round.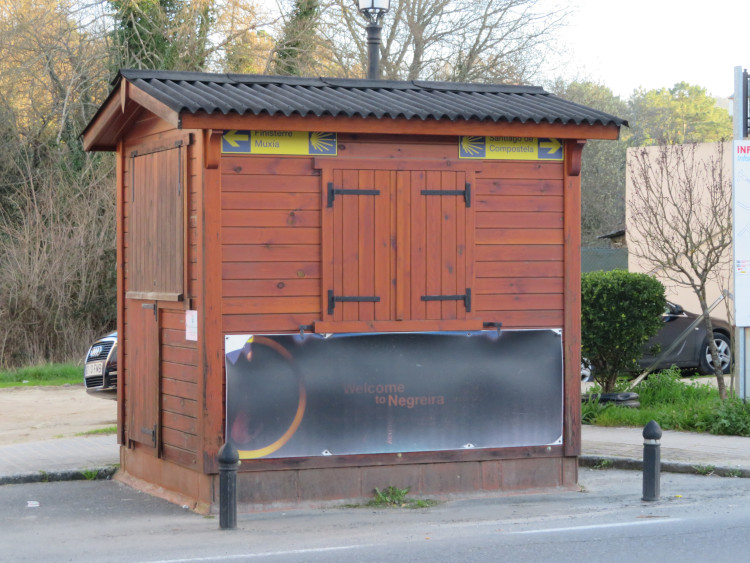 Accommodations
Less accommodations doesn't mean zero accommodation either! Most of the time, there are enough establishments open to walk your Camino comfortably. You just have to be a little more aware of available options and organize yourself a bit in advance.
It also often happens (especially on the Spanish side) that open accommodations don't heat the building where pilgrims stay. Be prepared so you can still have good night's sleep… In this case too, be aware it will be difficult or even impossible to dry your things for the next day…
It's also possible to sleep outside all year round, even in the middle of winter. Preferably for those who already have a minimum of experience of bivouac when the weather is nice… Who chooses this option will not need to worry about the opening dates of accommodations. Still, be particularly thorough and picky with your equipment! We'll talk about it a bit later.
Services: transport, food, "surprise-suppliers"
On the services side, things are more delicate… Most of the luggage carriers specialized in "pilgrims" shut down: low season pilgrims usually carry their own stuffs. Same goes for pilgrim-dedicated transportation: most of them stop their services. This is also the case for non-specialized transport but whose consumers are mainly pilgrims. As such, the bus running between Roncesvalles and Saint Jean Pied de Port is also stopped! If you need to transfer your bag or yourself, turn to taxis when no "Camino transporter" is available.
Another type of service, catering. One could say in this case that "big" establishments generally remain open and "small" ones are more likely to be closed. If supermarkets stay open, small grocery stores may shut down. Same goes for restaurants. This is particularly true in areas that live off tourism, like Saint Jean Pied de Port, the Atlantic coast of the Camino del Norte or Le Puy-Conques section on the French Le Puy route… That said, where there are people, there's the need to eat: pilgrim in low season will always find something to eat!
At last, "surprize-suppliers" (like eg the truck after Orisson) are almost non-existent in low season. The good souls who wait for pilgrims at the turn of their Camino pack up trucks and folding tables in winter… Only a few die-hards who live along the Camino are still sometimes there.
Difficult or forbidden sections
The Caminos rarely pose a problem in high season and if so, it's exceptional. In low seasons on the contrary, there are many difficult, impassable or even forbidden sections. It can be occasional or permanent, but it's important to take it into account! Then you can anticipate them, know how to cross or bypass them if necessary and, above all, prevent accidents.
Reasons
On the one hand, weather. Of course! Fog, rain, snow, cold… It's more common to encounter muddy or flooded trails; markings that are difficult to see or even completely invisible; conditions that make stages more difficult, more tiring and/or longer to cover.
On the other hand, the human factor. Less obvious and sometimes denied by those concerned… Of course, accidents can happen to anyone, even the most seasoned hikers. But! Lack of physical condition,of preparation, of experience, of appropriate equipment, of awareness of what one is getting into, or sometimes lack of humility… Pilgrims themselves hold a large part of responsibility about how their pilgrimage goes! The call of the Camino apparently makes some pilgrims lose all common sense… In any season, too many set out on difficult grounds or in difficult conditions, piling up the "lacks" I just mentioned. Unfortunately, those are hard to compensate in low season and it too often takes a disastrous turn… Note for example it's the too great number of reckless pilgrims and accidents that led to the winter closure of the Saint-Jean-Pied-de-Port/Roncesvalles stage…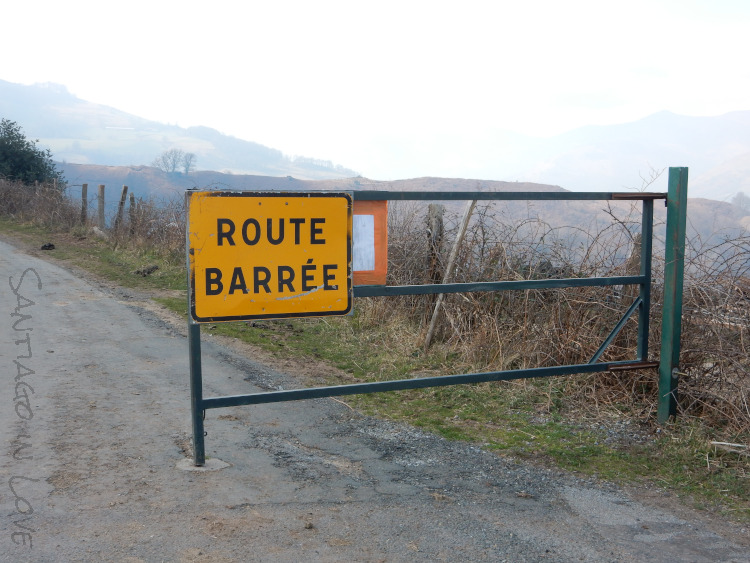 Non-final list of difficult sections
Stage Saint-Jean-Pied-de-Port/Roncevalles. Since 2016, the path through the mountain is closed between November 1st and March 31st. Pilgrims are redirected on the Valcarlos variant.

On the

Valcarlos variant

, be careful along the stream and along the road!

In general, mountain stages:

Around the Somport

on the Arles route and the Camino Aragonés. Bad weather quickly makes the paths and portions on the road dangerous. The pass may be closed in case of snow.

On the Camino Francés

, the Pyrenées between Saint Jean Pied de Port and Pamplona; the Cantabrian mountains between Astorga and Sarria.

The Caminos Primitivo, Sanabrés, del Salvador and Vadiniense

, all located mainly in the mountains. Sections can be closed.

On Le Puy route

, the stages from Le Puy to Figeac. Pay particular attention to the

Aubrac plateau

, some sections of which may be closed

On the Via de la Plata and the Camino Sanabrés, some sections can be flooded
Health for low season pilgrims
Summer travellers must be careful of sunstroke and heatstroke. In low season, pilgrims are moslty prone to hypothermia. Take some time during your preparation to learn more about this condition and its symptoms. Here are some information on how to prevent it:
The best way is of course to keep warm. Your equipment will be decisive, we'll see that a bit below.
Make sure you keep dry, because humidity makes you cold. Protect yourself from the weather, but be also

careful with your sweating

! Learn how to regulate your temperature, through effort management and clothing.
Keep yourself properly hydrated. We are less thirsty when it's cold but dehydration leads to hypothermia. Drink, but

drink the right liquids

: water, tea, herbal tea, broth, soup. Limit alcohol (it cools you down) and coffee (it dehydrates you). Be also careful to store your drinks in a place where they won't freeze!
Eat enough as well! The body needs more energy when it's cold, and even more so when you're doing exercise
Lear the emergency number by heart: 112 is working all around Europe! If you're in troube, don't wait to call for help!
Low season trail… proper backpack!
Many pilgrims leave poorly prepared and/or equipped during the high season… thankfully most of times, the nicer conditions compensate for potential problems. It's not the same story once the good days are over!
Being ill-equipped in the low seasons can (too) quickly take a turn for the worst. My goal here is not to frighten or discourage you, far from it. I just want to stress, emphasize, insist on the fact that it's crucial to prep well and take proper gears!
Unlike their summer colleagues, low season pilgrims find themselves facing a much more technical journey. Whether you are a complete beginner or a repeat Camino-er, invest time in refining your skills and knowledge of hiking and gears. This will be invaluable to pack your bag, the ensure your safety… and enjoy your pilgrimage!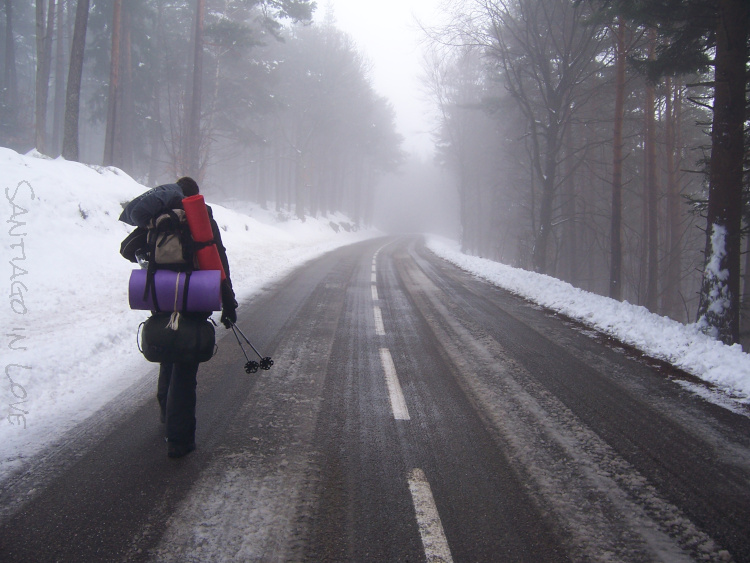 Clothing
In summer, little is enough, wether in quantity or quality. It's different in low season! Clothing should be at the very heart of your concerns, because it will guarantee your safety and comfort.
Master the layer system. Useless when the weather is fine, this method is effective as soon as it turns bad. In a few words… There can be more, but we generally speak of 3 layers of clothes to place on top of each other: 1 breathable (in contact with the skin, keeps you dry), 1 insulated (keeps you warm), 1 outer layer (or "shell", protects you from the outside world). Completely adjustable, these layers allow you to easily adapt your clothing to any situation. You can use this system better if you understand how it works: I really invite you to dig deeper into the subject!
Be aware of materials and their characteristics. The layer system is all the more effective if you use materials that are effective themselves! No need to become a specialist, but having an idea of the composition of your gears will help you to make better choices. For example, did you know that:
Pleasant in warm weather, cotton

is to be avoided

at all costs when it's cold and humid
Depending on the product you chose, merino wool can keep you warm… or cool!
Warm and light, down loses all its insulating qualities when it's wet
The efficiency of a given material depends in parts on its density (g/m², cuin)… which is reflected in prices!
In general, the more waterproof = the less breathable… and vice versa! 100% of both is… impossible!
Zoom in on bad weather protection
More on clothing, but this deserves another paragraph. This outer layer we just spoke about? It's always essential, even in the middle of summer. But unlike too many summer pilgrims who just go without it, you really must take it with you if you leave in low season! To be effective and deal with any situation, it will have to protect you against cold, rain, snow and wind. And let me take the opportunity to ramble a little … 100% waterproof AND 100% breathable, it doesn't exist! It's up to you to find the piece(s) of clothing that suit(s) you (and work(s) well with your personal layer system).
Heat loss can also be significant at the extremities of the body and at "clothing thermal bridges". Remember to bring gloves, hat, scarf. The layer system can be applied there as well.
Note to campers
Where we talk about sleeping outside again. That's right! Bivouacking in low season, it's possible… but don't improvise it! Sleeping outside and be cold in summer is already unpleasant. In autumn or winter, it becomes downright dangerous or deadly! Once more, the idea is not to discourage or scare you. A bivouac in snow is a fabulous experience if it's well prepared! I just want to stress again the importance of being well equipped.
Key point is still be to be well protected from cold and humidity. No way you overlook the quality of your gears. Choose a sleeping bag and a mattress with good insulating capacities. With a tarp, bring something to increase the dry surface under your shelter. Also take an emergency blanket, it can always be useful. Pay attention to details specific to sleeping out in cold weather: freezing water, inefficient fuels, electronic gears that prefers to be warm, etc…
I won't go on more on the topic here, but it deserves pages and pages of dedicated discussions! I advise you to have a minimum of "good weather" experience before you go to sleep outside when it's wet and cold. In any case, I invite you once again to inform yourself well specifically on bivouacking in low season!
---
Here we go! We've taken a good look at the differences it makes to do a low season Camino!
Have you done a Camino between October and March yourself? Or are you interested in doing so? What is you idea on a low season hike? Please share your thoughts and experiences in the comments!
Happy prep and buen Camino!