Here I am, back from my journey on the Le Puy route in France! My vacations and the blog's are over: there are already a million of things to do… Every single of these things is very interesting, but why not extend the Way a little more?
I was supposed to walk from Le Puy to Figeac, but my journey actually stopped in Aubrac. And this was not the only surprise of this year's Way! Here is the first part of my mini-Camino on the Le Puy route!
Slow start on the Le Puy route    ~    A hell of a first day to Montbonnet    ~    Hard blows before Saint-Privat-d'Allier    ~    A long day to Saugues    ~    Fortunate visit to the Villeret d'Apcher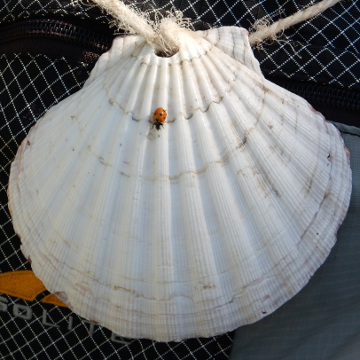 Itinerary: planned and done
This year, I was supposed to walk on the Le Puy route and stop in Figeac. James clearly had something else in mind, because things didn't go as planned. I stopped in Aubrac. I walked the part marked with a plain line and rode (by bus) the part marked with a dotted line.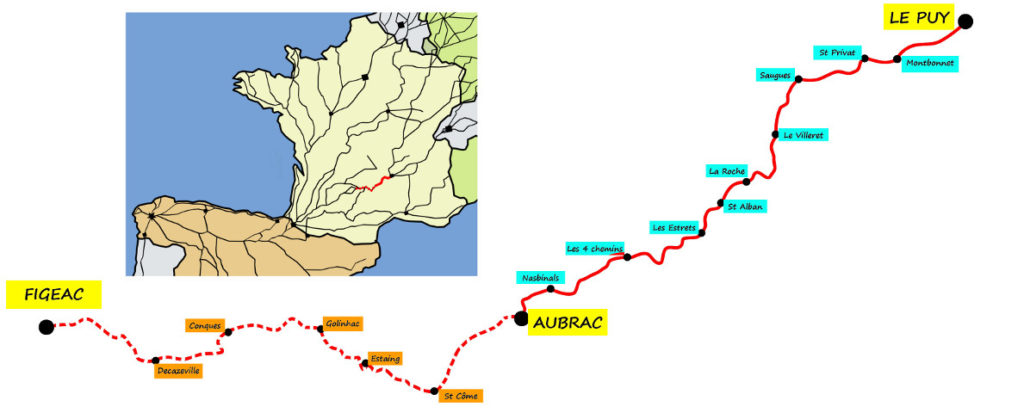 This post is all about the first part of the route I actually walked (red on the following map): I'll tell you about my adventures (and misfortunes!) between Le Puy and the Villeret. Enjoy and Buen Camino!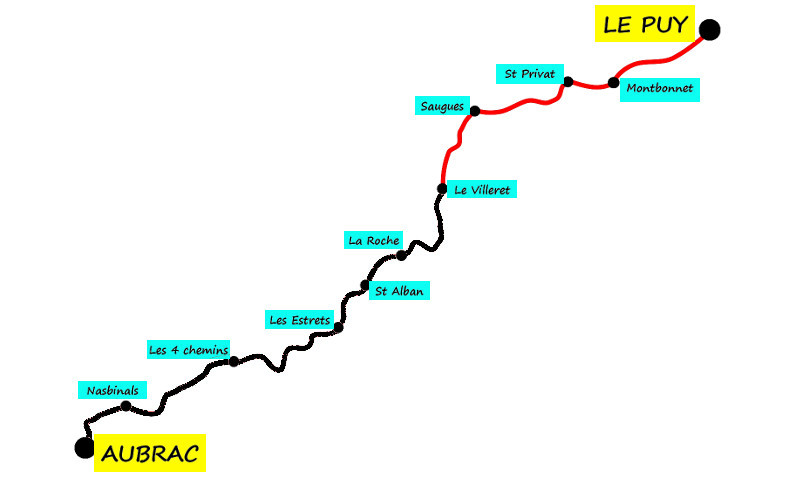 Slow start on the Le Puy route
Monday, August 1st
This was a symbolic date I chose for the start of this Camino, and it was as good as any other. At least until the many things I had to deal with changed it. I wanted to avoid any stress and rush, so the first thing I did on this Camino was to report it to the next day. This little delay helped me to leave the blog in a decent shape and to pack my bag peacefully. Whatsoever, this pretty much set the tone of the journey to come…
Tuesday, August 2nd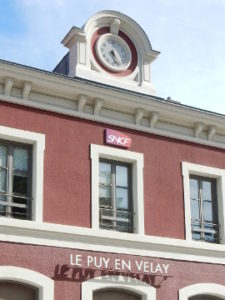 My train leaves at 11:30 and everything's going well. I put my personal touch to the preparations, which means I grab stuff and add it to my bag until I lock the door. When I eventually leave, I realize I'm a little short on time (another of my departures' personal classic). I hurry and stress out because of the ticket vending machine that won't cooperate. I finally reach the platform… only to notice my train is delayed by 20 minutes. Well… I can only wait. After about 45 minutes (no comment on the French train company!), the train finally arrives and takes me to Lyon. Of course, I missed the connection that was supposed to go directly to Le Puy. Well I can only take another train and wait for 2 hours in St Etienne for the connection. I eventually have to make the best of a late arrival.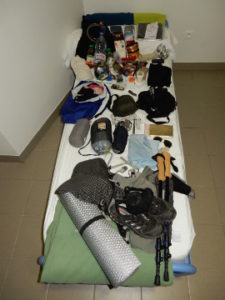 Of course, most accommodation are full. The youth hostel starts to advise me come campground before they find me a bed in a room that were put aside for a group. Once settled, I'm off to enjoy the evening. Pilgrim's drink and chat at the Camino, (re)visit of the cathedral, walk in the city and chat in the kitchen. Some nice and peaceful moments! I end up having a wonderful night at the hostel, and for good reason: none of the people who made the reservation came to sleep in any of the 6 other beds of the room.  Given the fact I was almost turned away, I appreciate the room, the luxury to turn the light off when I please and to sleep through the night with no one snoring around. Many thanks to these people for their rudeness! (sarcasm here)
Wednesday, August 3rd
Here we go! Waking without clock, pack on the back, I'm off to the pilgrim's mass. I really like this ritual. It's a nice moment, open to anyone, than makes sense beyond one's personal believes. After a joyful blessing, I pick prayer, leave one and get the stamp of the cathedral. The sun shines outside and the air smells like freedom. Camino, here I come!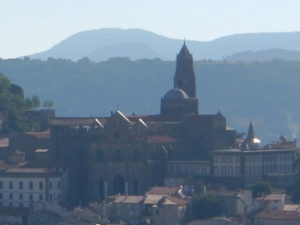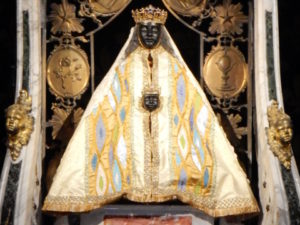 A hell of a first day to Montbonnet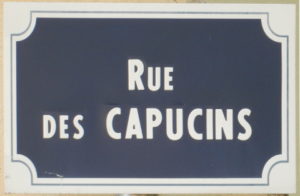 I quickly come to a stop. I buy my lunch at the market and sit for a tea. Pilgrims are passing by in a joyful and strong stride: they are still fresh! Then I'm off again: the way out of Le Puy goes up before my through the Rue des Capucins. What a climb! I have to acknowledge the fact that I'm really not in shape! I take my time to reach the top. If I learned one thing from my previous Ways, it's that rushing leads nowhere.
Raphaël is the first person I meet on the way. A short but very nice encounter: I'm soon short of breath and fail to keep up with him… Amy from Seattle takes over from him some kilometers later. She's a Camino repeat walker and is now wandering on the Le Puy route. We get along well and walk together for the rest of the day. Thank you to have lightened my ordeal! Because my experience as a seasoned pilgrim doesn't help: I drag myself along the Way,gasp, stop and pant heavily. I seems very clear that I should have looked after myself since my last pilgrimage! I finally treat myself with a raging sunburn that will follow me for days…
Despite this hard walk, I take my time and enjoy the Way with Amy. Frequent break, visits, talks, unusual encounters… The Way is its true self. The day goes by in no time until we reach the Saint Roch chapel in Montbonnet. The place is just perfect for a long break. Amy keeps going as she stays at one of the village's accommodation and I fall asleep without even realizing I do. When I wake up, I seriously reconsider my plan to reach St-Privat-d'Allier. It's already late and considering the remaining miles, my speed and my shape, I think it to be quite foolish… Very well, I decide to stop in Montbonnet! The last 500 yards to the accommodation confirm my decision. My body very clearly tells me he's had it for the day.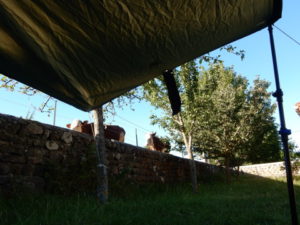 This first evening on the Way is very quiet. I set my tarp in the garden and I watch a herd of cows returning to their shed. I take a shower and realize I look like a boiled beetroot. My flesh didn't turn pink or red, but RED! I take care of my sunburn and feet and I go to sleep without further ado.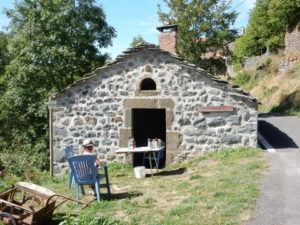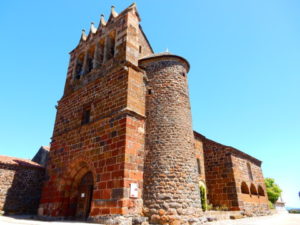 Hard blows before Saint-Privat-d'Allier
Thursday, August 4th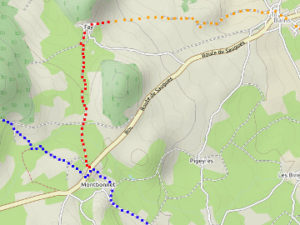 As often on the Way, I wake up fresh as a daisy. Except my sunburn, everything's fine. I cover every inch of red skin and I hit the road with light steps. I walk happily, surprised not to recognize the landscape around. After an hour, I eventually have to admit I'm not on the right path. Instead of following the Way's GR (blue on the map), I went for another GR, an alternative route of the Camino (orange and red on the map)… In other words, I'm walking back towards Le Puy. What a mess! My only option is to turn around… 2 hours and 4 miles (red on the map) to end up at my starting point.
It's a blow to my spirit and I lose my enthusiasm. I try to enjoy the Way, but my thoughts are pretty dark and my body already reminds me that all this exercise tires it. I'm in a downward spiral and I struggle to get out of it… with no success. I eventually drop myself in a side-path and I use one of my favorite anti-crisis measure. I allow my negative feelings to get out by crying a bit (or a lot). Once the trouble is out, I feel a lot better! I hit the road again and walk on until the next crisis.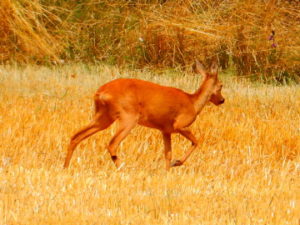 The Way sends me back to my own shadows without mercy, which drags me again into a pretty gloomy dark mood. I go from 1/4h walk and a new weeping break. My spirit drifts in some abyssal depths, but beside that annoying fact, I find myself in a truly unprecedented situation. I have no pleasure to be on the Way and I don't find any sense to it. The beautiful landscapes and wild encounters can't really lift my spirit… I seriously think to stop and go back home as soon as I reach the next stage. Because there is an outrageously long distance to get there, I resort to use new anti-crisis measures: a call to a friend and a nap.
Once awake, most of the blue is gone and I decide to stop in Saint-Privat-d'Allier. Considering my 4 miles-lapse, I call it a day. I also decide to get some information about the round trip to Le Puy and to make a final decision the following morning. I keep going without heart and dragging myself. Thankfully, the end of the day turns out to improve quite a bit. Some groceries, stroll and visit of the village, chat with the dorm's neighbors, a refreshing rain and an early bedtime. I no longer think of leaving the Way and I fall asleep knowing I'll be walking the next day.

A long day to Saugues
Friday, August 5th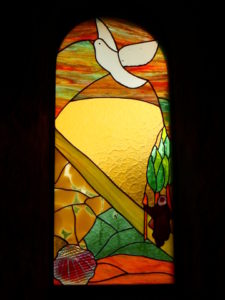 Once again, things always seem better in the morning: I wake up fresh and with a fresh and quiet mind. I take my time and my body agrees to walk without arguing. It's a nice start of the day. It rained all night long: the air is cool and the mountains are steeped in clouds and haze. The light gives the landscape a mysterious and sumptuous glare. It is the perfect reflection of my state of mind for the day: clear and calm, contemplative and turned toward the inside.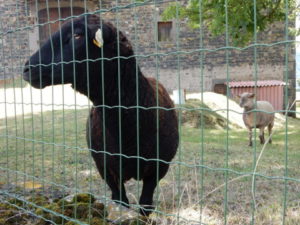 I hesitate to take the route to Rochegude, as the rain possibly made dangerous the steep path going down after the place. Despite all that happened already, I go and try my luck. I have some nice encounters and I visit the place before I start to go down towards Monistrol. Thankfully, the ground isn't slippery and the difficulty of the path is limited to its angle and its length. I move slowly and take breaks, but I'm glad to reach the bottom of the slope. I pass Pratclaux before my feet require a break, one I take beside some sheep.
Then I'm off again to Monistrol. A new slope down, steep and long again, only this time on the road. Still going slow but steady, to spare my joints. A long break celebrates the arrival in the very bottom of the gorge. A round of iced coffee for everyone! No one want any, how come? It's noon and I'm not hungry. I visit the village instead of eating and I start the long climb up the slope opposite of the one I just came down from. Slow but steady, to spare my breath.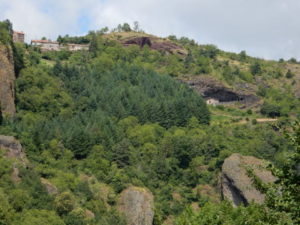 I go up to the Madeleine chapel and the plateau of Margeride… From one meander to the other, I'm amazed to rise so fast when I walk so slowly! I add up breaks an celebrate the reach to the top with a snack and a phone-call, leaning on the fountain that marks the place. I get some good news and the promise of some nice company for the evening! The 4 miles on the plateau towards Saugues seem to pass by easily. I go on and measure time as the sun sets… The last stretch before I can see the town however do seem to be never-ending!
It's with relief I finally end up looking down on Saugues. The night is slowly falling when I go on a mission to find beds. My mate is joining me on the Way to walk a bit of the Way with me. It's the happiest surprise of the day! Because once the accommodation is found, there is another surprise waiting for me: a huge blister on my foot. It didn't really bother me so far, but I really can't leave it alone: I have to operate! I go to sleep thinking this blister is not done causing trouble…
(For matters of manners, no picture of this blister will be shared here. My most sincere apologies to the most curious readers…)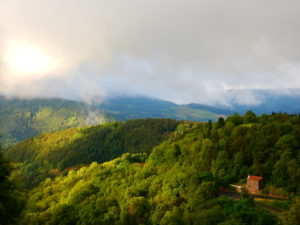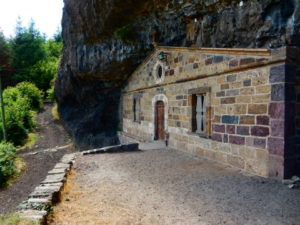 A fortunate visit until Le Villeret d'Apcher
Saturday, August 6th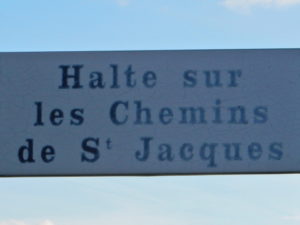 This day starts like any other, but the morning turns out to be quite original for a pilgrim. As my mate came to meet me with his car, we leave the hostel by car to do some groceries. We pay a visit to Janine, Saugues' Mom of the Camino. Then we have breakfast in a tee room and stop at the tourism office. We also visit a exhibition and the museum of the Beast of Gevaudan. When we eventually park the car and start walking, it is nearly noon.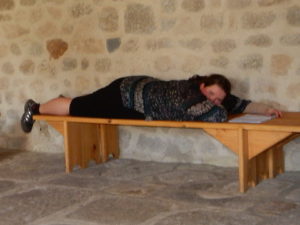 I felt as soon as I got out of bed that my blister would be a problem: the first 100 yards confirmed it. I can't properly set my foot on the ground. After further examination of the facts and situations, I clearly looks like I'm just going to have to deal with it… We keep going at such speed that snails pass us easily, but we're at least still moving forward. I painfully limp along the Way, leaning heavily on my poles as my mate literally walks in slow-motion. Another hard day for me, that could have been way harder without the nice companionship of my mate by my side.
I'm saddened to ruin his only day on the Way as he swears he truly enjoys the walk. I struggle and get annoyed, he cheers me up and appease me. Let me here and now pay homage to his patience and his matchless good mood! Thank you!
After 6 hours of laborious walk to cover 6 very long miles, we finally and gladly reach Le Villeret d'Apcher and our accommodation. We nearly have time to put our bags down and to clean up and the dinner is ready. The evening is lively and nice, our hosts are charming and considerate. I go to sleep with mixed feeling about the day, shared between the pain to walk and the joy to be with my mate.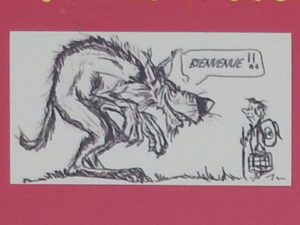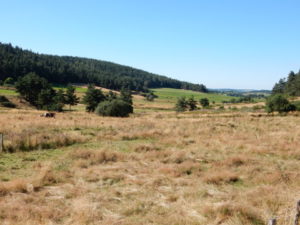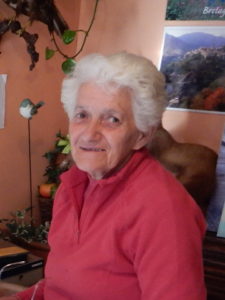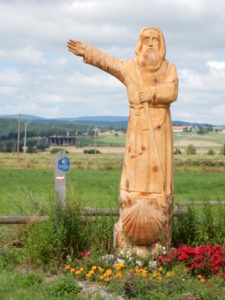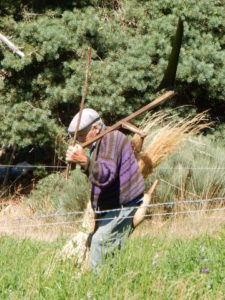 Read the 2nd part of my adventures on the Le Puy route, from Le Villeret to Aubrac: this way please!