"The Camino de Santiago" is not just one trail, it's actually a whole network of many Caminos de Santiago! Of course, Camino veterans know that very well. Some may even tell me I'm stating the obvious here.
Yes, it's true… but let's remember that sometimes, new pilgrims don't know about that fact yet! I for one had no clue there were so many Caminos when I started to prepare my first pilgrimage. And I'm pretty sure I'm not the only one, it had to happen to many pilgrims too!
In this post, let's discuss that moment when a pilgrim realizes that THE Camino is in fact MANY Caminos!
An overview of the Camino and its many itineraries
Memories of my discovery of the Camino network
So, many Caminos… what now?!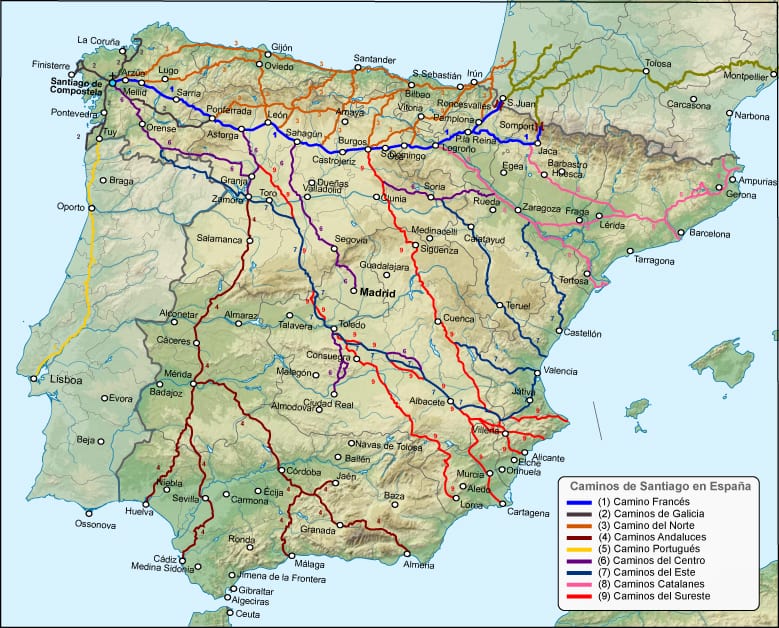 An overview of "the" Camino and its many itineraries
So, how about a look at these many Caminos de Santiago? 🙂
Let's start with a map of Europe, from the Spanish Federations of Jacobean Societies:
It gives a pretty good idea of how important the network of Caminos de Santiago really is… even though on this map, many itineraries are missing!
How amazing is this?! There are enough Caminos for several lifetimes! 😍

/
Here is now an overview of the many Caminos de Santiago you can find in different European countries:
Most European countries have a national Jacobean society focusing on the Caminos within their borders.
In countries with a great number of itineraries, there usually are local societies as well. Regional, provincial, municipal… depending on the administrative organization of the country. They take care of the stretches of Caminos passing through their territories.
And in countries with no "Camino de Santiago"… you can still find Camino societies! Some only have a national one, others may have local chapters.
For your next Camino, remember those societies are a huge help to make preparations easier! Check if there's one around you! 😊
---
Memories of my discovery of the Camino network
The pilgrimage to Santiago didn't enter my life by surprise, I always heard about it. Amazing tales and stories of a mystical journey always filled my head with dreams and gave me itchy feet…
And one morning, 💥 BOOM! 💥 M turn! The Camino called me. I woke up with the absolute certainty that within the year, I would have arrived in Santiago too. Starting from home, alone, on foot and doing all of it in one journey. No half measures!
All I had to do was to prepare my trip: Strasbourg-Santiago… with zero knowledge about the Camino and no hiking experience whatsoever (but that's another story)
In the beginning was a One Camino…
In my mind, I was going to shut my door and make up my own path until I finally reached THE Camino that would then lead me straight to Santiago.
I don't remember exactly what I had in mind at the time… But when I started to prepare my pilgrimage, this One Camino looked like a shapeless itinerary without stages or anything, floating from an approximate center of France and going towards Santiago.
I could have looked like this: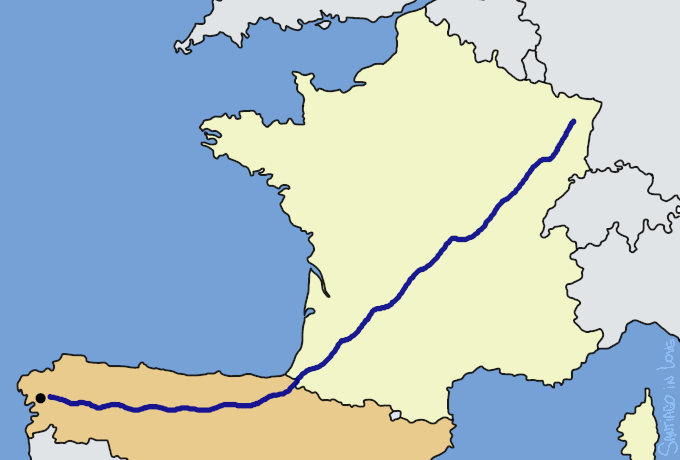 Then I started my preparation with some research. And…
Uh oh…! Really? So many Caminos???
Once upon a time, a time when Internet was not so common and quite empty compared to these days… I did my first researches at the library. 😋 Even without the 3,110,000 results in 0.70 seconds from a research-friendly Internet, I quickly realized (in 1min flat) than THE Camino was far from being a One Camino. Quite the opposite… there were MANYYY CaminoS, all over the place! 🤯
It blew my mind! There were many Caminos in Spain, many Caminos in France… But also many Caminos in Belgium and Switzerland! And for me, the icing on the cake was a complete Camino connecting Strasbourg to the main French Caminos… I didn't even need to invent a trail of my own!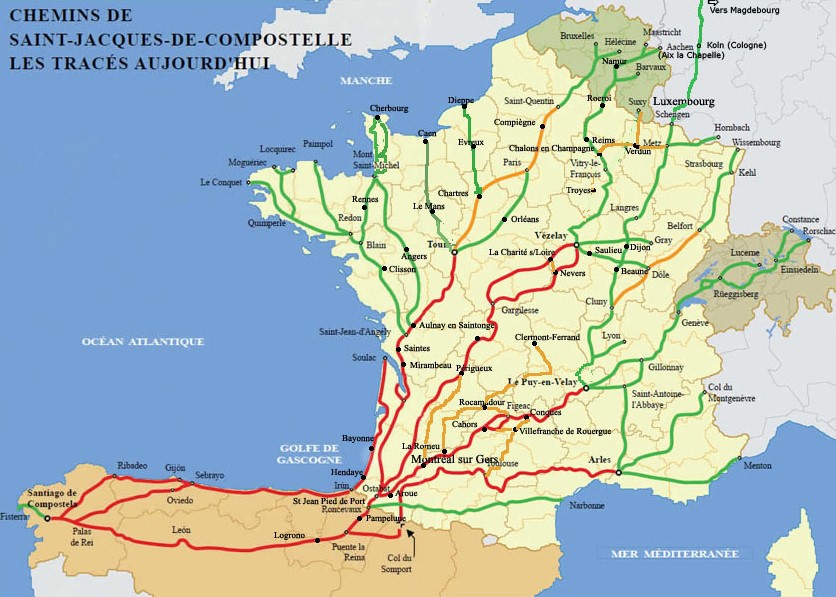 It's fair to say, the One Camino from my imagination was far off the truth!
(And it looked a lot like the Le Puy route and the Camino Francés. Looking back, it's not surprising: those 2 are the most famous and popular ways in France and Spain! But at the time of course, I had no clue they were ☺️)
Anyways, I was quite stunned, to say the least… Have you ever been to the supermarket and felt overwhelmed or fatigued by the excess of choice you have for a simple can of soup of a box of pasta? I had a similar feeling when I first discovered all those different trails. I was thinking, what should I do, what Camino should I choose???
Honestly, at this point I felt a bit lost! Information overload… For my One-Camino mind, there were suddenly too many options!
Ok… well, no problem!
Thankfully, the element of surprise was short-lived. Once it was gone, I simply got to work. I did a bit of research on the different routes. Not too detailed; just enough to have a general idea of what my options were.
Then I simply invented my own personal pilgrimage, based on existing routes, down-to-earth obligations and personal preferences. It kind of went like that: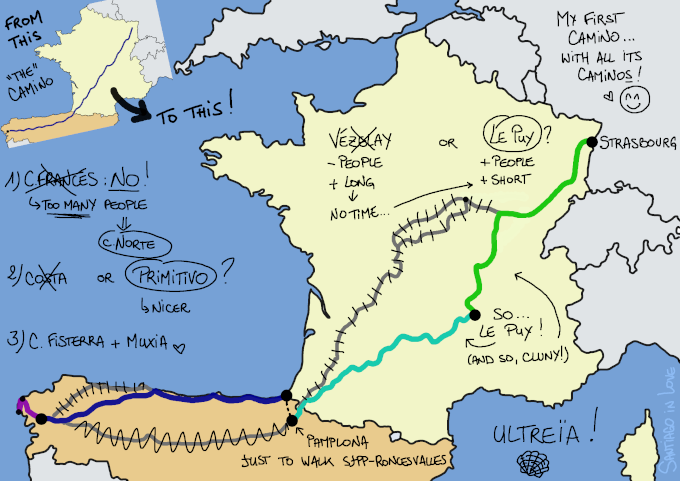 I was starting from Strasbourg, for sure. In France, Vézelay felt like a better option than Le Puy but it would have taken me too long to complete, considering the time I had. So I chose to walk the Le Puy route instead, even if there would be a lot more people there. This choice also influenced my path before Le Puy as it made it go through Cluny.
In Spain, my first priority was to stay away from the overpopulated Camino Francés. I was happy to discover another option with the Camino del Norte! But I still wanted to cross the Pyrénées by the stage Saint Jean Pied de Port-Roncesvalles, so I decided to push until Pamplona first, then reach the Norte at San Sebastian by bus (in the end I hitchhiked it… quite an adventure by itself!).
I had planned to continue the Norte along the coast, to catch up with the Camino Francés as late as possible. It's only sometimes along the way that I decided to take the Camino Primitivo. I don't really remember when or why I changed my mind, but it was completely worth it!
Finally, when I discovered the Camino a Fisterra-Muxia and its beautiful meaning, it felt obvious to me right away that I would end my pilgrimage that way.
So, this is how my Camino took shape… There's quite a difference with what I first had in mind, don't you think? 😉
---
So, many Caminos… what now?!
You may have been surprised one day by the number of Caminos de Santiago out there. Or maybe not…? Regardless, you certainly had to make a decision about your itinerary at some point!
It's no headache for some pilgrims: sometimes the right choice is obvious. For example, because they want to start somewhere specific or because they're attracted to one Camino in particular.
But more often than not, it's not that simple… Many pilgrims are hesitant or have doubts. They're afraid to make a mistake, to throw themselves into something that's too much for them, to miss a Camino "must-do", to mess it all up by choosing the "wrong" Camino…
If you are one of the second type, here are some suggestions to help you find your Way:
If you feel one Camino in particular calls you, trust yourself! You can't explain a mysterious calling for one route over another… Especially not with logic! In my humble opinion and from my experience, such attractions always have a reason to be. Even if you only understand it a lot later, or not at all. There are things about the Camino that are really beyond our comprehension… Same for yourself, actually! There are parts of you that are way beyond logic and reason, but still have meaning. So, trust the Camino and trust yourself!
There is no such thing as a "wrong" or "bad" Camino. Whatever your final choice is, you will experience something that's really worth it. Even if you have a "bad" experience! There's always something to gain from a journey on the Camino 😉
Any Camino can be a perfect first Camino. English speaking pilgrims advise each other to prefer the Camino Francés for a first pilgrimage. French speaking pilgrims advise the Le Puy route. Well yes, those 2 ways have advantages that can reassure first-time pilgrims. But other Caminos are just as fine for a first experience! If you feel like going on another route than those 2 for your first pilgrimage, it's perfectly ok!
Make an informed choice. Any Camino can be a good option but not all Camino can be done the same way! Each route is unique, with their own particularities. For practical purposes, it's better to be well-informed about it before you go…
If you have obligations, do your best not to let them stop you. But if you have to make compromises, it's ok! You will have a great experience all the same!
If you're hesitant, see what's going on within yourself. Nowadays, we tend to ask others about what we should do or what we should think… It's kind of sad! (although advice can be good and interesting!) Give yourself time, take the time to "listen" to what you tell yourself from within. Most of times, answers to the questions we seek are already there… we just don't realize they're there!
---
And you? Did you once think that THE Camino was only just one path?
How and when did you realize there were in fact many Caminos de Santiago? Was it hard to choose one path over another? What helped you decide?
Tell us in the comments! 🙂