Feet really are a walking pilgrim's greatest friends. No need to go for a million miles to get it! Quickly, I adopted simple and efficient rituals to spoil them every days.
Because for one, better safe than sorry: why wait for trouble when they can be avoided? Then, because they're really worth it: I love my feet and love my back!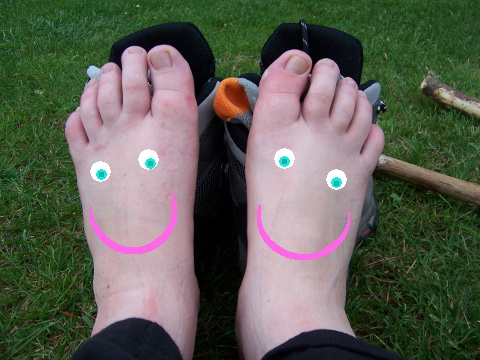 No. 1: Get your feet off the ground anytime you have the chance to
We are built to bear our own weight alright, but let's face the facts. Compared to a "natural" human who's frolicking around all day long, the classical nowadays human sits at a desk or slumps on a couch most part of his day: the time he's actually on his feet is quite laughable. He doesn't exercise enought with his feet: even the most regular sportsman doesn't walk for 6 to 12h daily. Many have a little (a lot of?) paunch: some extra body weight our feet are not supposed to support. And finally, those and the others still aren't used to carry their house on their back: a backpack is an unnatural and unusual weight feet have to deal with from one day to the other, without transition… In short, all the more reasons to go easy on our poor feet from time to time, because they really get some hard heavy time!
The idea simply consists in sitting or laying down to get the body's weight off our lovely feet. They do carry us bravely, don't they? A little break won't hurt! On the contrary, a break is always welcome, even if our brain doesn't feel like it.
From experience, such a break does a lot of good. Feet decompress and perk up quickly. If you have sticks, use them as a support: place them under your legs (see picture) or cross them (handles on your laps, pointy end on the ground, ankles on the stick). More simple but just as fine, sitting at height with dangling feet or on the ground with spread legs; laying on the back or flat on the stomach with feet up. French people say "ridicule doesn't kill", and here it even do good: feet really ask for more!
No. 2: Get your boots off when having a long break
Would you like to be squashed all day? Getting boots off and even socks off allow feet to relax and have some fresh air.
Make the most of the sun to dry any dampness or sweat out of your shoes, socks and feet. It's a good way to avoid feet juice and blisters… and to balance your tan. A break without boots also is a great time to check on your feet, tend to eventual injuries or change a dressing. And, because you love you feet, you can spare some time to give them a well-deserved massage! (see no. 5)
One exception to this tip, rainy days. For them I can only see downs. Feet would be exposed to rain; hands would have to deal with damp socks and shoes; putting everything on would be an awful feeling; chances are to get blisters… Really, no ups to get feet out on rainy days!
No. 3: Steep your feet in cold water
Ouch! Well, sometimes, one must suffer to feel good! Cold water quickly refreshes your feet, eases pain thanks to its (slight) anesthetic effect, cools down burns, boosts the blood flow and diminishes swellings. Of course, no one lugs a bowl around to soak his feet at the stage. So, how can one enjoy the blessings of a cold foot bath?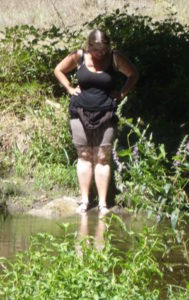 For one, stop to take a dip on the way. It would be a pleasant break, all the more if the weather is nice and warm. Of course, you'll take your boots and socks off! No kidding, I once kept mine to cross a river… what a fail! Watch out to access the water legally and safely: your feet deserve some reboot, but it's not worth troubles or accidents. Once your bath and break are over, be sure to dry your feet out well: wet feet, contained feet, heated feet, blistered feet!
Another way is the stage. To do it right and with luxury, ask your host if there is a bucket or a bowl you can use. Otherwise, take advantage of your shower: start with a cold spurt on your feet before you get the dirt off. If you lack courage or if you feel lazy, at least use the time water takes to heat up: it may be short (although sometimes not…), but this water is often cold enough to give your feet a nice boost!
No. 4: Have some camphor close to hand
Or arnica. Or wintergreen. Or any other way to relieve muscles, bones and joints. There are of course many chemicals that have an efficiency as lightning as the list of their side-effects, but as I prefer natural cares, I'll stick with them. I'm not a doctor or a chemist, but it isn't to hard to get intel on the nice properties of natural substances. As for any "regular' drug, basic cautions are in order: chose good quality products, check their notice, respect measures, and son on…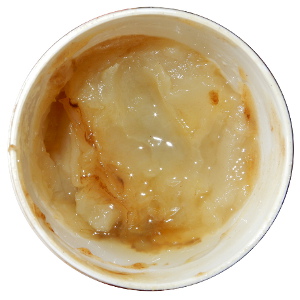 Camphor, arnica and wintergreen are friends to tired and/or sore feet (and more: they work on other places too!) by having a smooth effect on muscles, bones and joints. These plants come in different forms and mixtures: homeopathy, essential oils, balms… to chose according to your liking. Such products can easily be found in pharmacies or organic stores. Online too, of course, but the good thing about stores is, you can ask a real person for advice before buying anything.
As for myself, I always have a camphor-based balm (that also have other stuffs in it) and sometimes some wintergreen essential oil. I use them mostly in prevention when I give myself a massage (see no.5) in the morning or in the evening. I also use them during the day, if I feel some weakness, tension or pain. It works perfectly for me!
A last piece of advice ont his point, watch out for alcohol-based products! Put them on your feet before putting your boots on for the day and be assured your skin will heat up and burn! Experience talking here…
No. 5: Massage yourself daily
No need to be a physiotherapist or a reflexologist to give your feet a nice massage! Anyone is able to massage him/herself to relieve his/her feet. Given one is supple enough to grab one's feet! A massage has a relaxing effect on muscles and eases tensions.It also soothes the feet and refreshes them. In case of sharp and/or localized pain, a deeper and more intense massage will help to lessen the pain and prevent complications.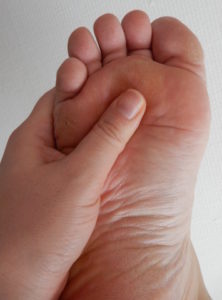 On the Way, I massage daily an several times a day. In the morning, a massage allows feet to wake up and slightly warm up before starting the day. Muscles that stiffened during the night will loosen and be more disposed to start moving. I make it my must-do ritual when I wake up: I begin by stretching my feet, then I massage them for about 10 minutes before I leave my bed. Later, I quickly massage them again for 2 minutes before I put my boots on. A zen and smooth start for my feet!
During the day, it depends on my feet's mood and on opportunities. I take advantage of breaks without shoes (no. 2) to treat myself with a little massage, or I take 5 minutes to sooth any pain I may feel.
In the evening, double must-do ritual again. As I arrive and get off my shoes, I massage myself for about 10 minutes. The last miles are often the toughest: this massage signals arrival, eases tensions and relax the feet to enjoy the stage more. Finally, as a last action of the day, a deluxe massage in bed before sleeping. With some balm, I vigorously and thoroughly massage my feet for at least 15 minutes. A relaxing and preventive massage before the night bring a well deserved rest!
So, how to massage your feet? With your finger pad and particularly with your thumb. One hand holds the foot and the other gives the massage, but don't hesitate to go with both thumbs! Take care of your soles, but also of your feet's backs, sides and heels. Get up to the ankle. First, brush your skin to prepare your muscles and slowly increase the tension. Rub firmly, as to clean a sticking stain. Slide along the foot while pressing, with a slow and regular movement. It's time to go in depths and push your thumb's pad into the flesh. If you feel your bones, don't panic, it's normal! I you feel a knot or some pain under your finger, put your thumb on it, press gently and make small circles. Increase the tension until it loosens. Contrarily to your wish to let it be, it's time to be firm with your massage: pushing on the pain doesn't make it worse in the long run, it relieves it! Finally, don't forget your toes: they deserve their share of cuddling. Grab them and roll them between your fingers, rub them and firmly slide on their length.
The most important thing is to trust yourself to feel what is right to do: your feet are yours, they are a part of your body and you intuitively know how to take care of them!
Bonus: talk to your feet, they have ears!
Which pilgrim didn't rediscover his feet on the Way? Which one can swear without lying he never spoke to them? Unlike the sense of madness and oddness one may have, everyone on the Way speaks to their feet, and it's just fine! The Way is an occasion to discover our feet have some character that was unknown to them us so far. Talking to our body may seem stupid and foolish, but in fact, it the very opposite. Talking to our feet is a very good way to understand what they have to say, to know what they need, to know how to help them and to support them (or to tell them off!). There's even no need to actually talk, for a inner chat is just as fine for information to pass! Try it and you'll see!