As Christmas and New Year are approaching, the Camino really seems far away. After the simplicity of the Way, all the holiday's hustle and bustle fell un-authentic. Maybe you even wish to escape and go back to Santiago… But what if, this year, the Spirit of the Camino was at the heart of the parties?
Why not shake traditions a bit? Here are 5 suggestions to make your holidays more pilgrim-friendly!
Wandering holidays    ~    Community meals    ~    Nice shared moments    ~    Collective introspection    ~    Mutual intentions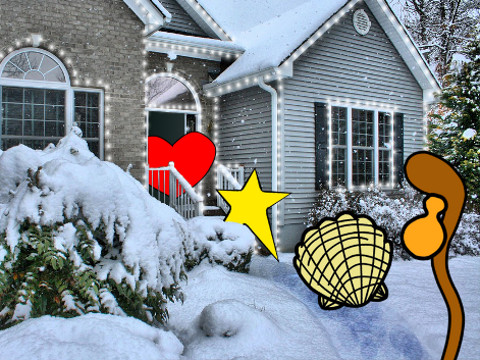 Wandering holidays
Your feet are hitching and the road is calling you. Just add walking to your Christmas and New Year agenda! In nature, if you can: it will be a refreshing break between 2 heavy meals! (or not, see the next suggestion!)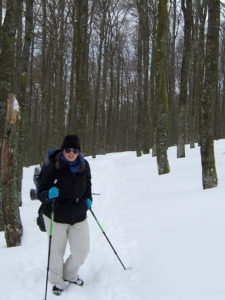 The easiest way to do it: invite your guest to a 1 or 2 hour walk, or for a straight day. You can also go for a one-way trip. Schedule your itinerary and especially its ending point: it will do the trick!
If possible, go for a true wandering party. The rule is simple: 1 guest = 1 stage, with a dish and a leisure activity. Rendez-vous at the first person's place for a cocktail and an introduction game. Walk to the second person's place for the first course and make a DIY hat. Keep walking towards the main dish and a card game. Hit the road again to reach a wine-and-cheese-dish, of which you'll have to discover the names. At last, enthusiastically walk to the dessert and a dance. Extend or shorten the menu, be creative for the activities! For New Year of course, plan to be at a strategic spot at midnight…
Finally, an option for advanced party-pilgrims: do some Christmas camping or a New Year bivouac!
Community meals
Ahhh, remember the friendly meals on the Camino? Few efforts, but such memories! Take the Camino as an example for your menu. Are you uncertain about this? And yet, who never regretted not having taken it easy? Who never complained to have eaten too much during the holidays? Everything's possible, and here are some propositions!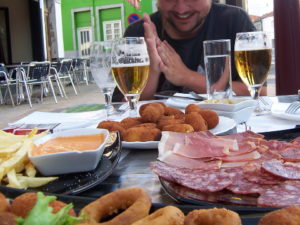 Bet on simplicity. Even pastas can be a feast! Make the ordinary extraordinary! Treating yourself and your guests doesn't necessarily mean to spend hours in the kitchen or to serve sophisticated dishes…
Organize a pic-nic, but a festive one! Replace corned beef with foie gras, bagels with baked bread, wine with champagne. Offer raw veggies with dips, it's always a hit. Relax and eat with your fingers! Go so far as spreading a blanket on the ground in the middle of the living room.
Go for a patchwork-menu. Everyone brings something to eat and something to drink. Balance sweet and salty, alcohol and soft drinks. If everyone brings something they like, everyone will be happy. Moreover, there will be a lot of choice on the table and the meal will be friendly. And, believe me, there will always be left-overs!
Nice shared moments
The Camino is an atmosphere of mutual and benevolent care for each other, as well as memorable community moments. Insist on these qualities for you Christmas and New Year parties!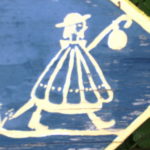 Do you know the peanut and gorilla game? Let's call it the pilgrim and scallop game. Each guest is a pilgrim, who has to care for another guest: his-her scallop. You can assign the scallop to the pilgrim yourself, or let the pilgrim draw his-her scallop (paper with names in a hat). In any case, the pilgrim must take care of his-her scallop with nice, benevolent, good actions and attitudes. Pairs are unknown at the beginning: each scallop can then guess who is his-her pilgrim. Once the pilgrim-scallop pairs are found, the game can still go on!
For the rest, don't hesitate to play with the unusual. Schedule a costume party with the Camino for theme, serve some dishes with scallops, organize a contest of the most beautiful DIY stamp… Think of what you loved most on the Camino and adapt it to your holidays celebrations!
Collective introspection
The Camino is often an opportunity to discover beautiful truths about ourselves and the world. Quite often too, these discoveries are brought to us through other people. Why not end the year (and start the other!) in a similar fashion? First make sure there is a benevolent atmosphere to ease your guests defenses. No one wants to share personal stuffs if they're to be attacked about it! On different papers, ask everyone to write anonymously:
A personal accomplishment of 2016
A negative personal element of 2016
A quote that inspired him-her
An advise to make life more beautiful
… be creative!
Get the papers back and gather them by category in different containers. Ask each guest to draw on paper from each container… and to re-do it if they picked theirs. Take some time to share what the paper inspire you! It's very important thet there are only positive comments here. For instance, praise the accomplishments, sympathize and offer encouragement to overcome negative things. Invite everyone to keep their papers so that they'll continue inspiring them all year long!
Mutual intentions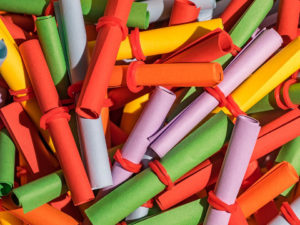 There are places along the Camino where people leave a prayer intention behind and take the one of another person… Take advantage of Christmas and New Year to do the same and launch 2017 with benevolence, support and encouragements!
Ask each guest to write a personal intention for 2017, something that matter to them. Gather all the papers in a container. Later, ask everyone to pick one without watching, then keep it without showing it. (If someone takes his-her own paper, s-he put it back and takes another one) Suggest to each "keeper" of a picked intention to give their benevolent support to whoever wrote it, and to encourage this person from within. No direct actions or words are expected! Propose to your guests to put "their" paper in a place where they will see it from time to time. They would then have an occasional thought for its author all year long!
And you? What have you planned for Christmas and New Year? Will you celebrate with the Spirit of the Camino, and so, how? Try these ideas and come back to tell me how they came out for you! 😉