Choosing the right equipment, what a poser… There are so many options, choices, recommendations and things to take into account! A pilgrim who's used to hike may find it enjoyable, but more often, the task is a true nightmare to those who never (or hardly never) went for a long walk…
Despite all the catalogs and the advice one may find, the most important thing often remains in the shadow. Do you know the crucial element of an ideal pack? Are you aware of the essential component that will help you find the perfect gears?
The (surprising?) answer, right here…
Obvious, isn't it?!?   ~   But then, what can one do?   ~  Know yourself an your gears will become perfect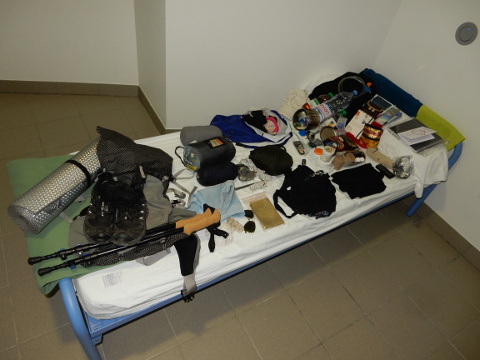 Obvious, isn't it?!?
The essential component of your gear… is yourself! You're in no catalog, of course. And you're without a doubt lost in all the recommendations and advice. But are you aware that you are the measure that will enable you to chose your gear with relevance?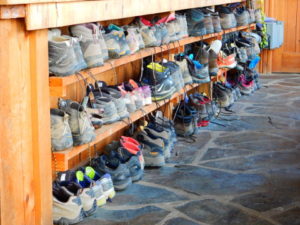 So, yes, some tests and feedback, some obviousnesses greatly reduce the scope of possibilities. Yes, one can present gears to you, guide you, make suggestions, make you try gear and try it again. But no one can tell in your place what will fit you or not. Whether it is for shoes, a backpack, clothes, gadgets or guidebooks, everyone has his-her own advice, fondness and personal experience to share. Skilled pilgrims (and overall, hikers) are often very enthusiastic  regarding their equipment when they like it. Or very negative when they don't. Store clerks are usually more moderate and more neutral. In any case, these "experts" have a great influence on the pilgrims-to-be and the choices they have to do. For better… or worse!
Beware to keep in mind that what fits one may not fit the other! Just like every individual is unique, there is not 2 perfectly identical packs.
But then, what can one do?
Not to have a very good knowledge and not to trust other people too much… gather one's equipment seems to become a quite complicated business! How to manage the task then? Again, you are the solution! Here are 2 battlefields to explore as of now: on the one hand, increasing one's knowledge concerning hiking and traveling gears. On the other hand, confronting the advise of the more skilled to make one's own mind.
Theoretical individual study
On the one hand, being a beginner doesn't last long. With a few hours of research, anyone can have an idea of what is to be expected and how to get there. It's a theoretical knowledge that remains a bit fuzzy and vague, but it's some knowledge anyways! For instance, knowing the basic principles of hiking, like the layers' trick or filling a backpack, helps to get used to the practice. Likewise, discovering gears and their specifics, like sleeping bags and their different shapes, fillings, uses depending of the season; it is all part of elementary knowledge concerning one's future equipment. There are many articles, forms, magazines, books, blogs, websites that can help to do researches and get the basic knowledge one needs, step after step. The pilgrim-to-be can then go from total beginner to initiated beginner!
Examples of raining gears: same use, numerous variants, chosen preferences…
Cold study of recommendations
On the other hand, staying objective and keep a critical mind is necessary when confronted to the many advise available. At the same time the pilgrim forms his-her opinion about the meaning of "hiking" and "long distance traveling", s-he can also seek the advice of his-her peers, who are more knowledgeable than s-he is. This is an excellent mean of information and a good way to reduce the choice among the many gears at hand. It is interesting to listen to these feedback and recommendations, but don't take it all as face value. "Experts" are numerous at their return from Santiago, but may lack of temperance! Don't hesitate to question the motives behind a praise or a criticism.  Demand to have details on the background and way of utilization of the described gears. Ask for what was appreciated or missed. Listen to everything and its contrary with interest, cross-check opinions. Seek what fits you best and find a balance that will make you happy.
Know yourself and your equipment will become perfect
As every person is unique, it requires patience and time to make a perfect pack up. There are no shortcuts! Once one has a basic knowledge and found a middle-ground among the many reviews, one "only" has to make choices, purchases and tests on the gears! More than ever, the keyword here is "self-awareness": if the pilgrim is not able to define precisely his-her needs, sensitivities and leanings, s-he will find impossible to find his-her ideal equipment.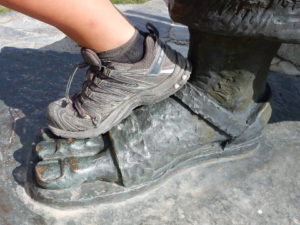 For each piece of gear, specific questions come up. The pilgrim must be able to answer them to have an idea of the gears that will fit him-her best. Some are about physiology: sensitive to cold or warm; heath imperatives; small or big drinker (of water!); etc. Other are on sensitivities: a little discomfort or none; sleeping with some noise or none; wool; cotton or synthetics; etc. Or on comfort: sleeping without pillow from time to time; give up perfume; sleeping on the ground; etc. On preferences: descriptive guidebooks or maps; 1 or 2 sticks; music or not; etc. Questions are many, possible answers even more numerous… The clearer the answers, the more pertinent and efficient the purchases of gears will be!
Any pilgrim or hiker keeps asking him-herself these questions, to improve his-her equipment. However, doing one's first choices is difficult… Despite researches and help, the pilgrim lacks of field experience to make purchases that are completely considered and adapted. I may be wise, if doable, to try various types of gears before making a decision. Such thing is more or less possible in shops: take advantage of it and take your time! Then, it's obviously advised to get quality gears, but there is no need to invest too much money on it either. Wait to gains some practical experience: it will teach you a lot on yourself and it will guide you to do relevant purchases.
In any case, breathe! To make one's pack up is an integral part of the Camino, even if it can be a little stressful. Going to Santiago is an adventure that reveal you to yourself… and it starts as soon as the perps start! Without being even gone, you already started your travel!
And you, do you think that knowing yourself is essential to chose and prepare your equipment? What did you learn about yourself thanks to your research to find the perfect gears? 😉